Best Free Mobile App Landing Page Templates & Themes For Developers (HTML5 & Bootstrap)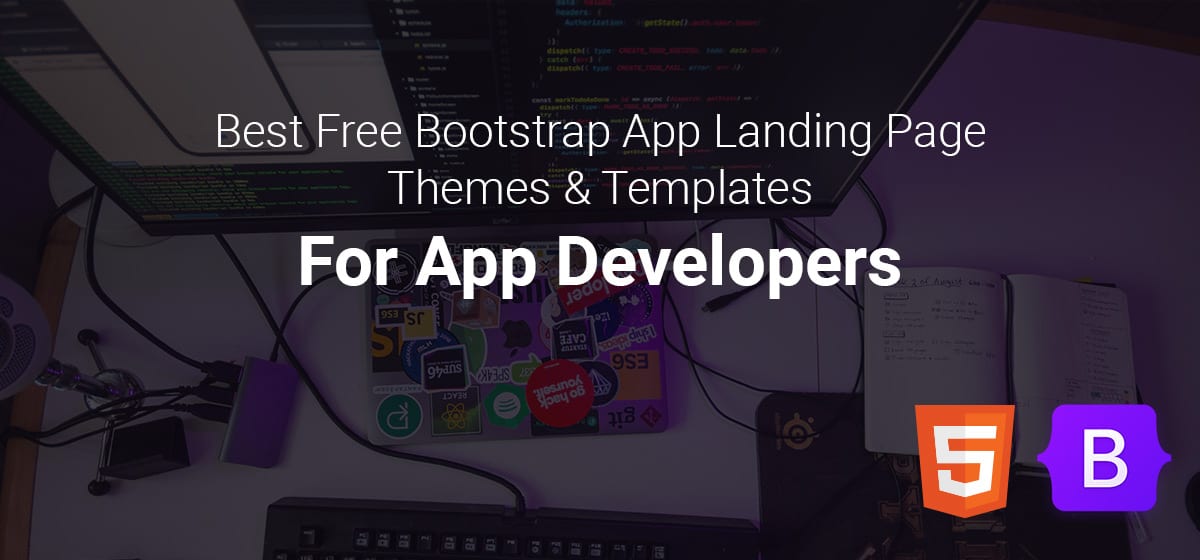 If you are looking for the best free Bootstrap mobile app landing page templates, we have done the research for you. Landing pages are a critical component of marketing your mobile app. Landing pages are developed around a call to action. In the case of an app, you are hoping to get a potential customer to download, purchase, or learn more about your app. Much research has been done into what makes an effective landing page. That research has even covered essential elements of landing pages for specific product categories, including mobile apps. Instead of starting from scratch and trying to determine the best format for your mobile app landing page, consider starting with a Bootstrap template that is already pre-designed to create the highest number of conversions. Just customise the template to match your style and needs, and you will be up and running in no time.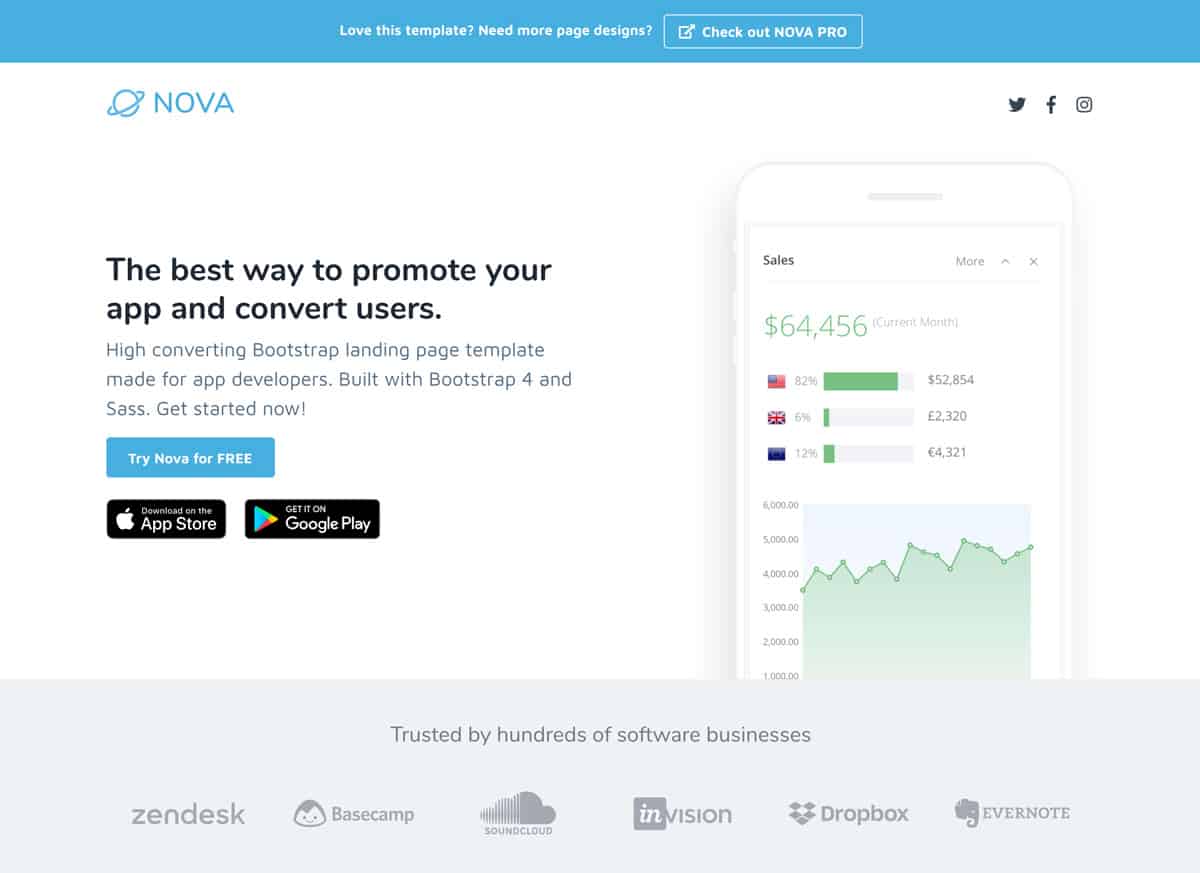 Nova is a free Bootstrap mobile app landing page template that is great for indie mobile app developers. It is packed with features to help you get the most of your landing page. The layout and elements have been created specifically for mobile apps and to get visitors to download or purchase your app. Nova offers a clean and modern design essential to catch users' attention and make a positive first impression. The neutral Color scheme with ample white space will ensure that your app is the focal point on the page. It comes with built-in universal phone mockups to hold the screenshots of your app for both iOS and Android.
Nova comes with pre-built sections for the most essential sections of a conversion-based landing page. It includes clear calls to action, a features section to show off your app's key benefits, and even a testimonial section to back up your app with social proof. Built on the latest Bootstrap framework, Nova is easy to customise and set up with the source SCSS code included in the free download. While the landing page template is free, a pro version based on the same design is available for purchase if you want to build a fully featured site to market your mobile app.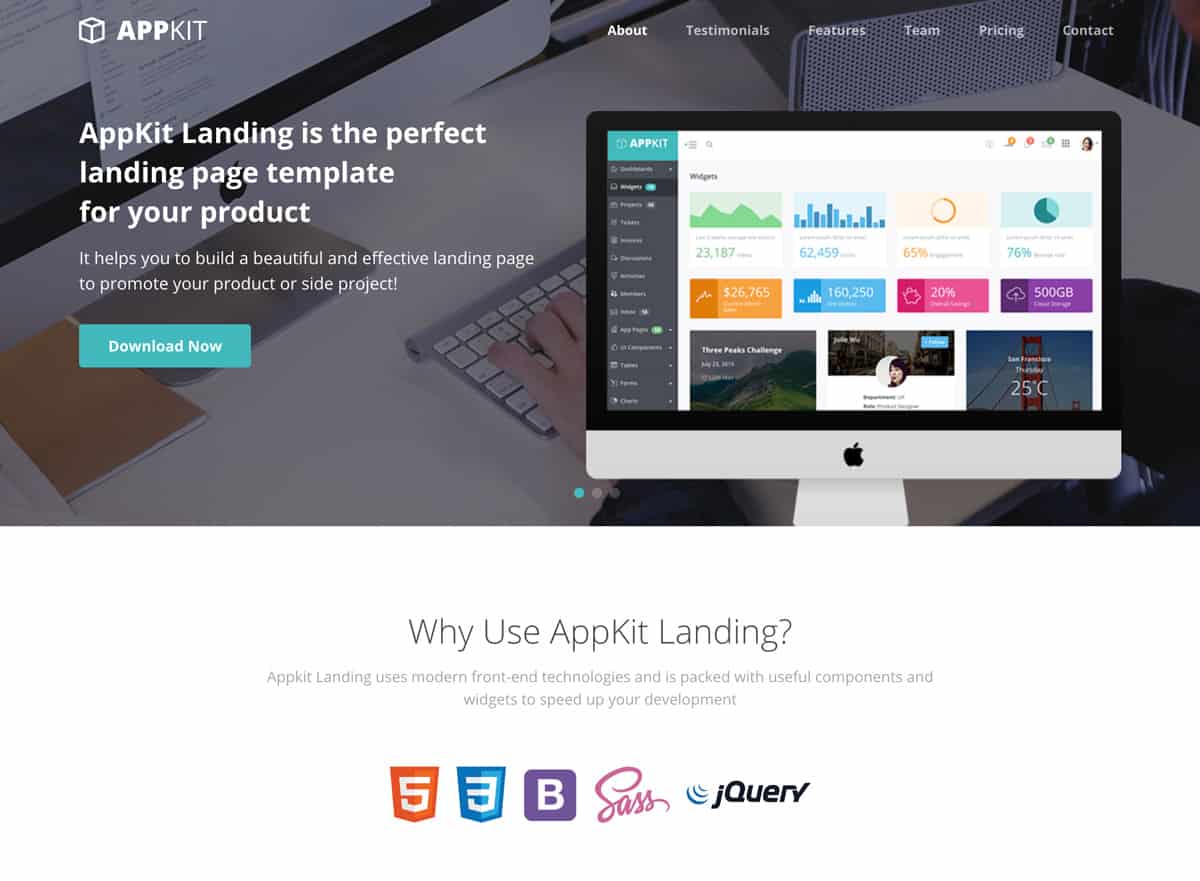 For mobile apps and beyond, AppKit Landing is a free Bootstrap template perfect for promoting mobile apps and software products. Although the template uses a web app as the demo product, you can easily replace the demo product mockup and screenshots with your mobile app mockup and UI screenshots. This template is beautiful just as it is, but it is also completely customisable with all of the source SCSS files included. It also comes with 1000+ free FontAwesome icons.
AppKit Landing is designed with all the right pre-built sections for showcasing your mobile app including testimonials, features, contact information, and even a place to showcase your development team. Appkit Landing also features a unique pricing section making it perfect for subscription-based mobile apps.
MobApp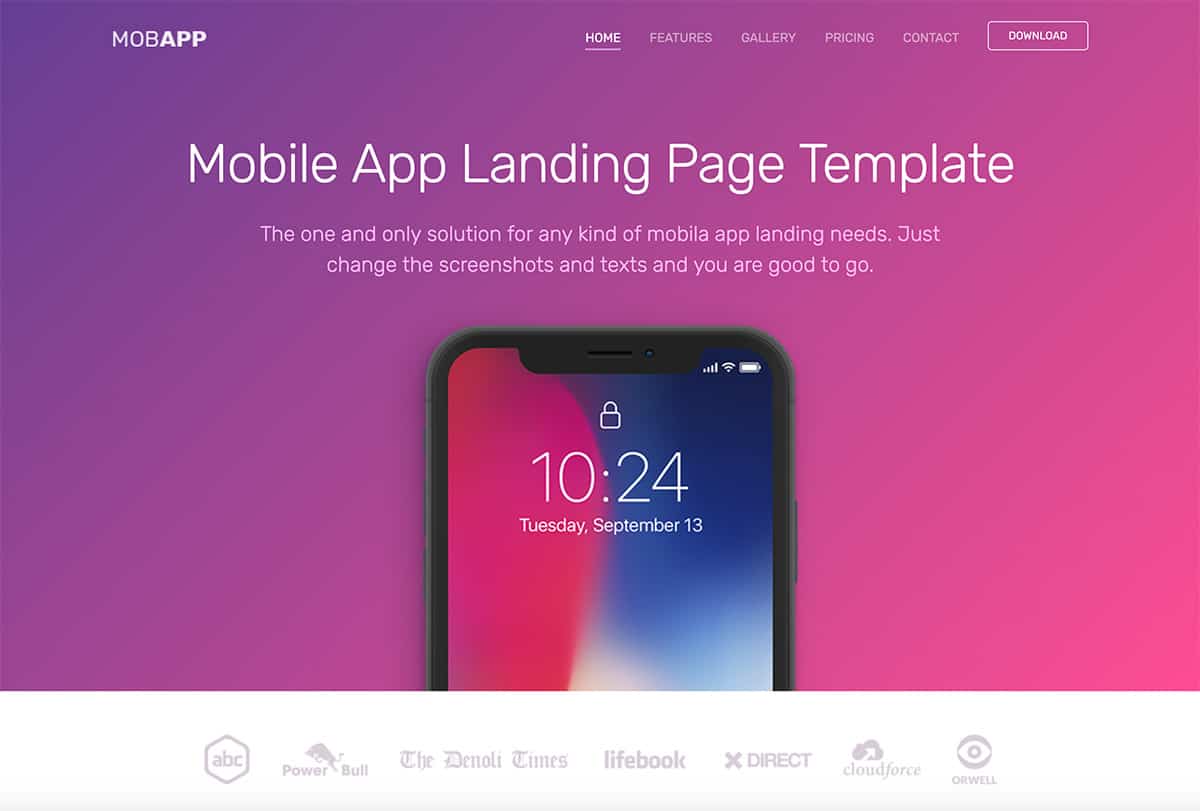 If you want to add a bit of Color to your Bootstrap mobile app landing page, check out MobApp. The vibrant Color scheme will make your mobile app landing page stand out from the crowd. It comes with 14 pre-built sections to help you convince visitors to download or purchase your app.
Avilon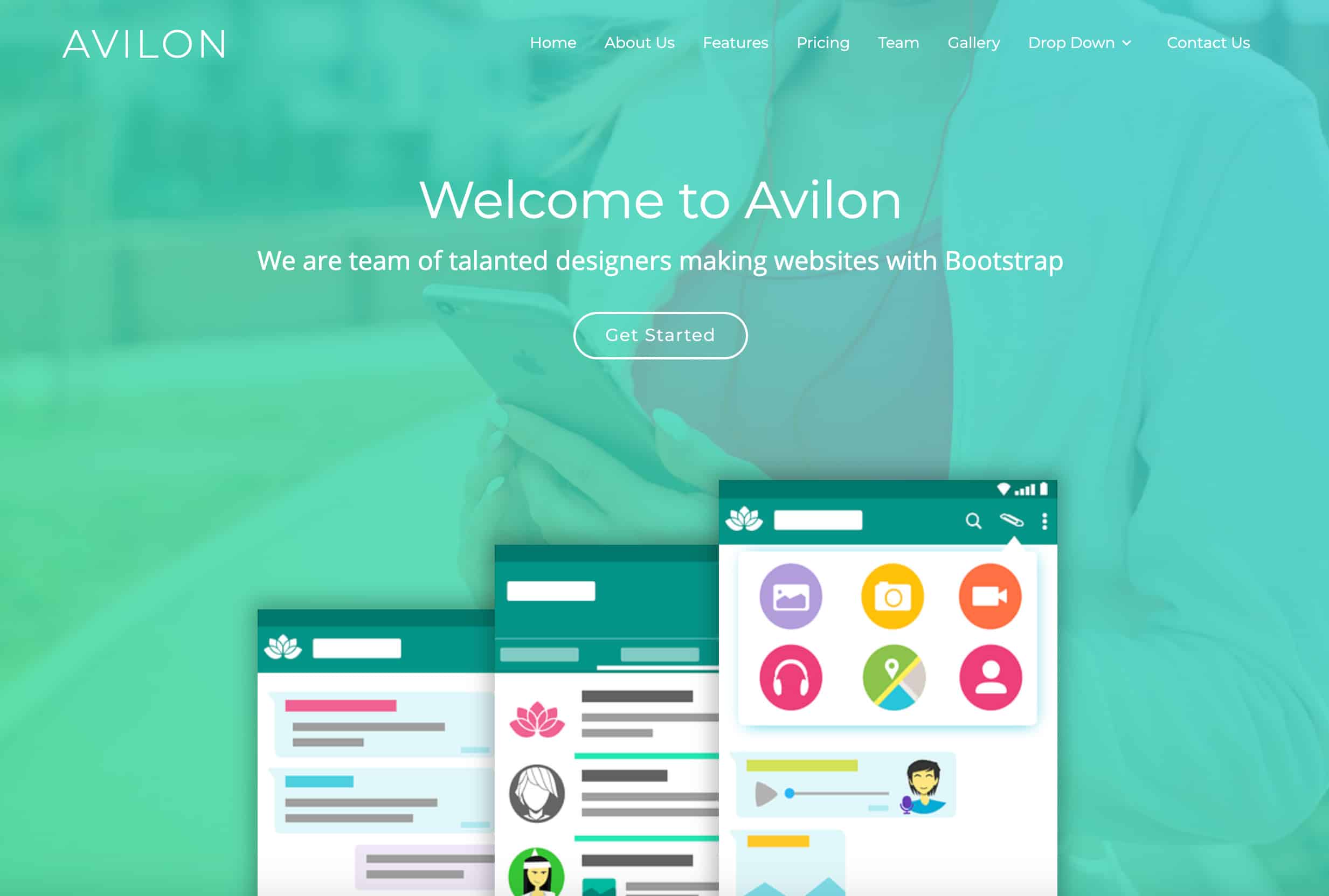 If simplicity is your goal, Avilon is clean, elegant and modern mobile app landing page template. It features animated scrolling and an image gallery with Lightbox support.
Clean Landing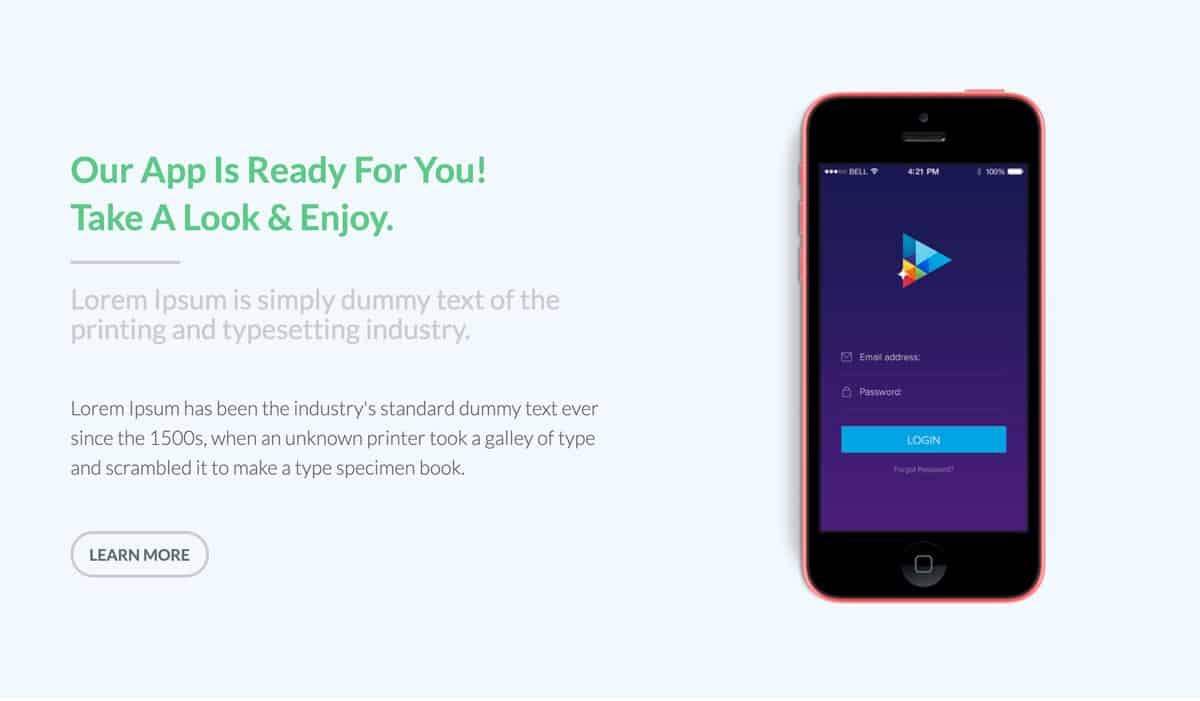 Another bootstrap mobile app landing page that offers clean simplicity, Clean Landing is an excellent template to show off your app. Clean Landing's minimalist design is impressive to look at and easy to set up.