5 Effective Product Landing Page Templates For Startups and Developers (HTML5 & Bootstrap)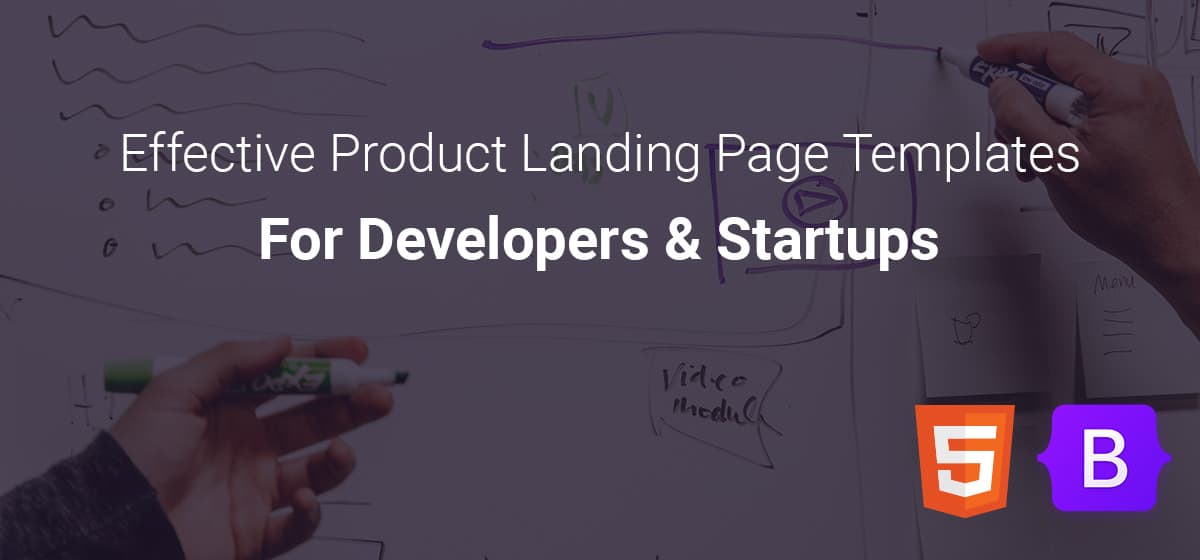 Are you looking for the best HTML5 & Bootstrap landing page templates for developers and startups? You have come to the right place. Landing pages are the latest trend in digital marketing. They take an approach somewhat different than traditional web pages and have specific elements designed to move potential customers further into the buying process. As a developer or startup, it is essential that your landing page is flawless. It is often the very first impression you make on possible buyers and may make the difference between them becoming a customer or moving along to another website. We have sought out 5 effective product landing pages for developers and startups.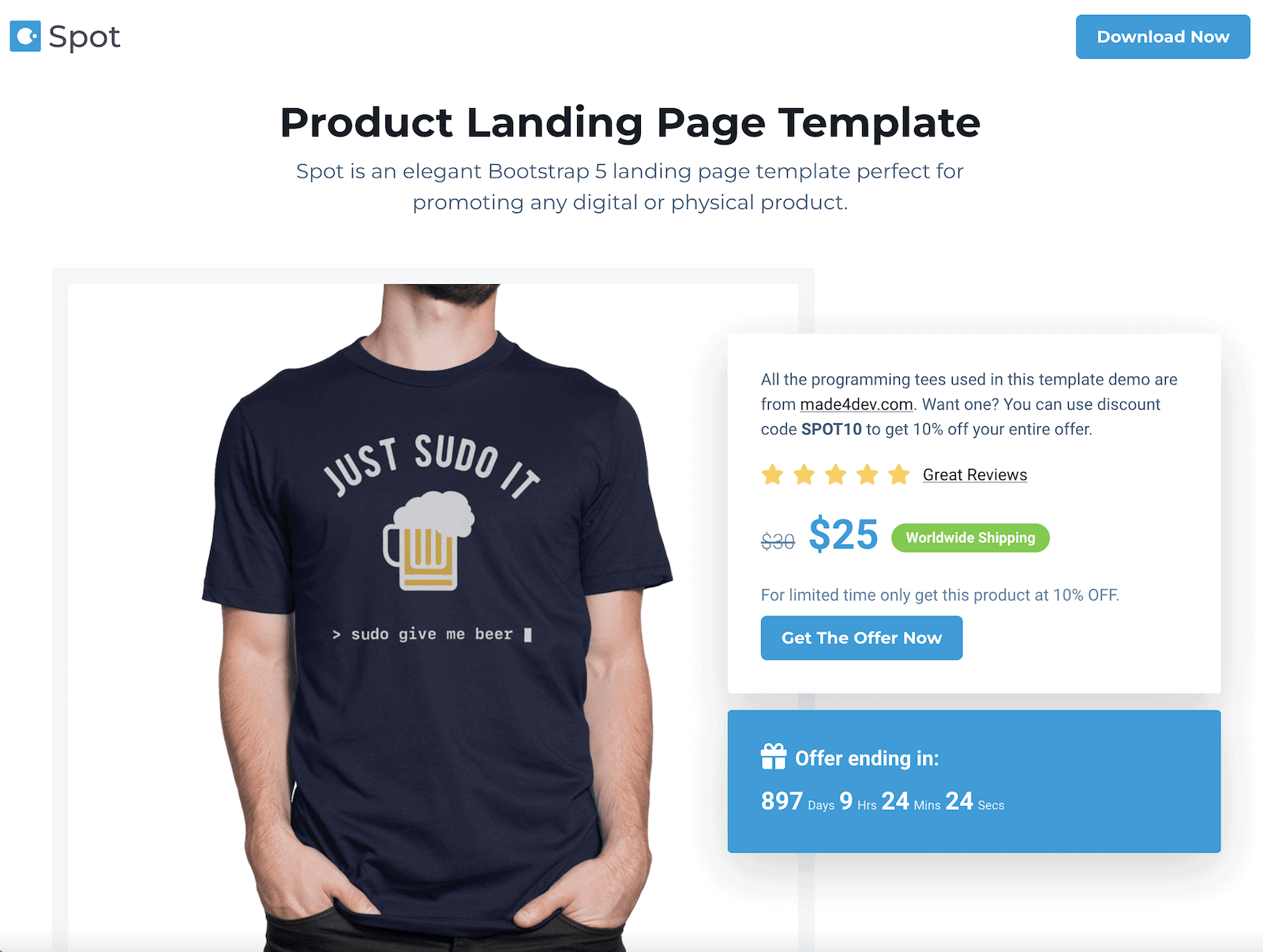 Spot is a free Bootstrap landing page designed specifically for developers. It is a clean and attractive template for creating a page to promote any product, digital or physical. This template is highly focused as it is designed for a single product or marketing campaign. It is also incredibly versatile. In its default configuration, it is perfect for a physical product. However, with some minor adjustments, it can easily be adapted for promoting digital products. As an effective landing page template, all of the elements are designed with one goal in mind: to encourage visitors to become customers by making a purchase or using your product. It has everything you need for a landing page built-in including a product carousel, countdown timer, reviews section, and more. Spot is fully customizable, built on the Bootstrap framework and includes all of the SCSS files. Whether you just swap out the photos and text or completely customize it for your needs, your landing page will be up and running in no time with Spot.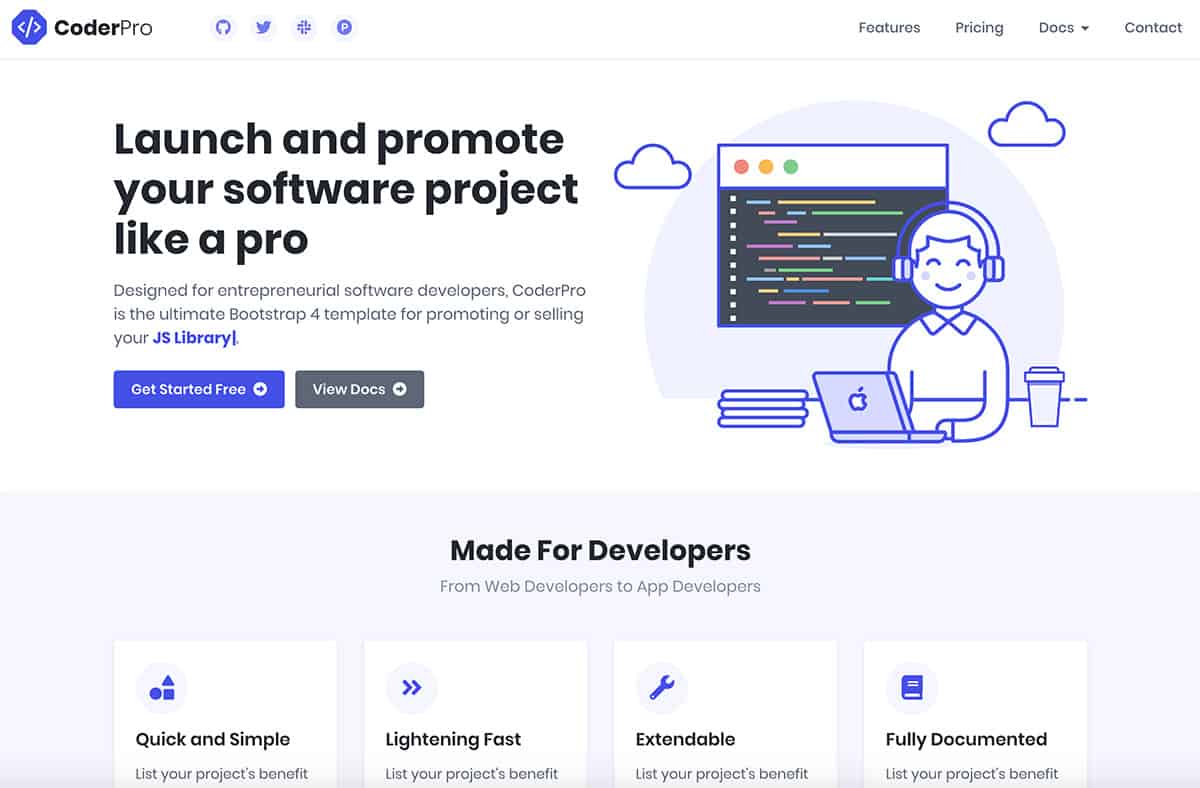 CoderPro is a premium HTML 5 product site template that includes a product landing page made for developers. This landing page will grab your visitors' attention and show them everything they need to know about your software. It is made specifically for software products and is perfect for promoting your JavaScript library, JQuery plugin, browser extension, CMS plugin, mobile app, or open source project. Because it is specifically tailored to developers and software projects, it comes with the most essential design features you will need, including code snippets, tabbed content, carousels, and more. It also has multiple page designs available if you want to add links for features, pricing, documents, or contact pages. This template is beautiful and allows you to change the color scheme. Built on Bootstrap, CoderPro comes with all the SCSS files allowing you to customize your site for your specific needs.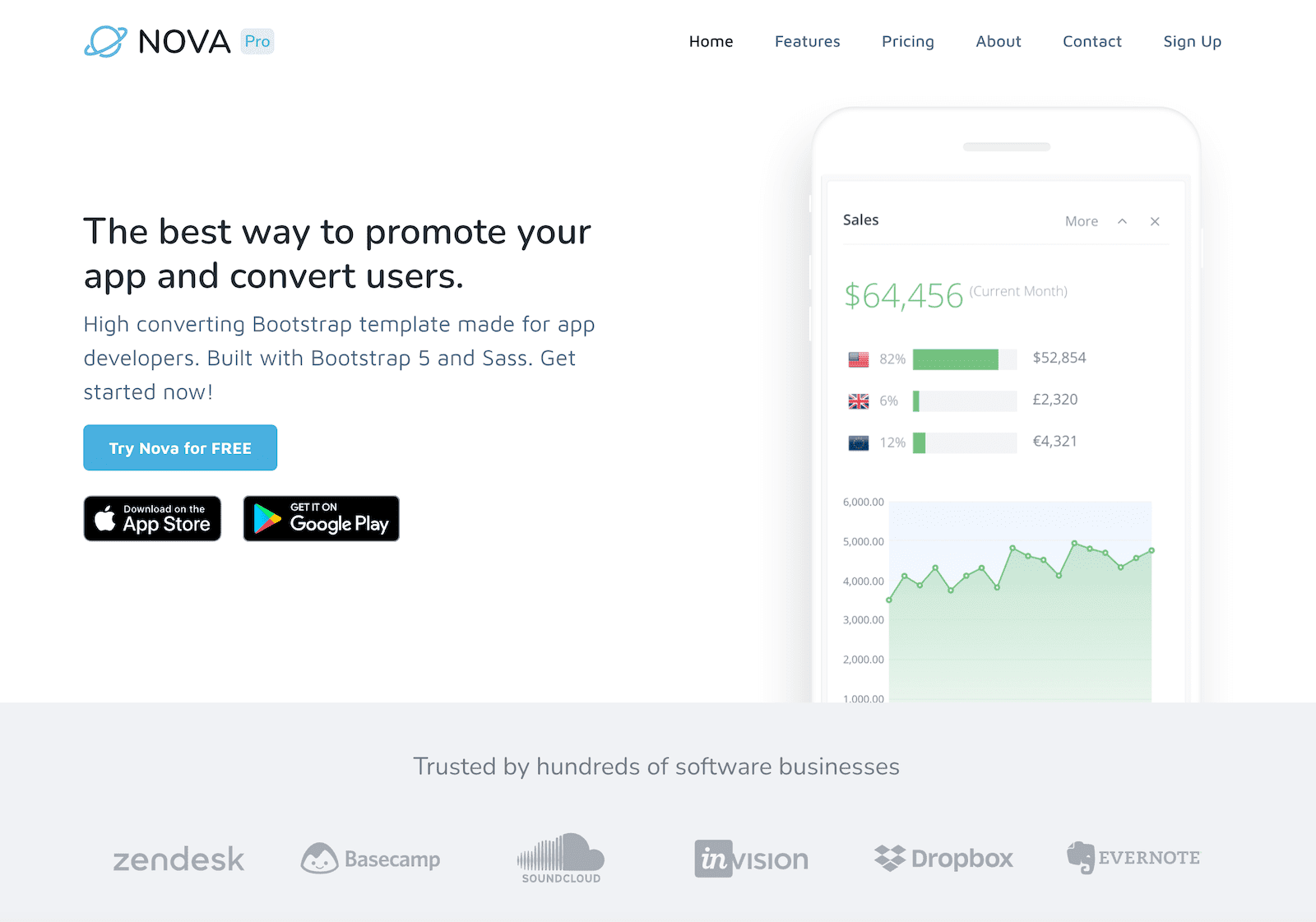 Nova Pro is a Bootstrap template designed specifically for promoting mobile apps. Although it is a premium template, you can try its product landing page for free. If you are looking to create a site to promote a mobile app, this one is tailored to show off both iOS and Android apps. It comes with all of the essential sections for promoting an app right on the landing page, including a place to show off features and benefits and social proof. If you want to add additional features, there are additional page designs enabling you to add features, pricing, about, contact, and even signup and login pages. Of course, the UI looks great across all devices. Built on the Bootstrap framework, you will be able to set up Nova Pro and start promoting your app in no time.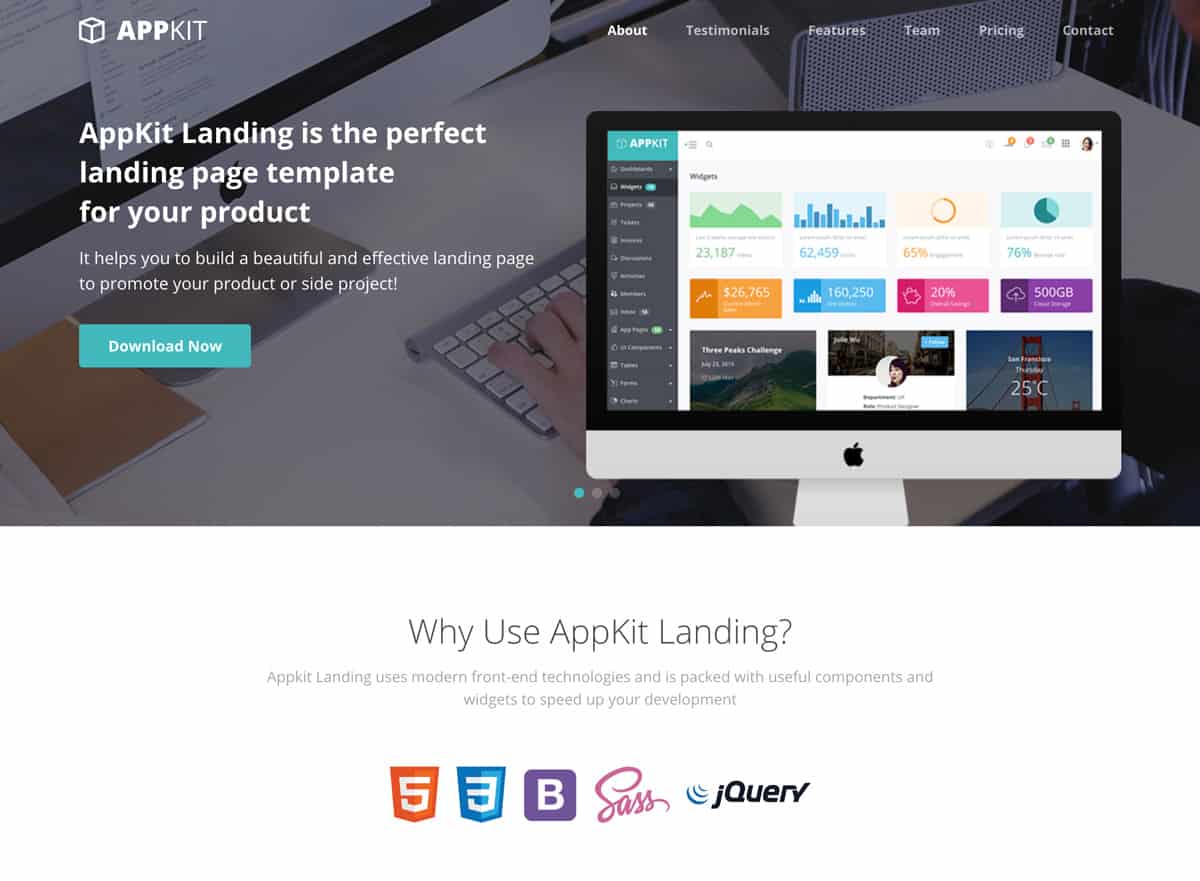 AppKit Landing is another free Bootstrap product landing page designed for developers and startups. It features a beautiful design with a vibrant color scheme. This is a very popular theme and has been downloaded over 17,000 times since its release. It is designed to promote any product or service but works exceptionally well for subscription-based digital services. Customization is a breeze with AppKit as it is built on the Bootstrap.
If you are a developer wishing to promote a personal side project, devAid is a product landing page designed for you. This Bootstrap template has a simple, clean design with four hand-picked color schemes for easy color customization and comes with the source SCSS files for further adjustments. This a perfect template for use as your Github project landing page. devAid is quick and easy to set up, and you will be able to share and promote your coding project.