10+ Best Website Templates & Themes for Tech Startups (HTML5 & Bootstrap 4)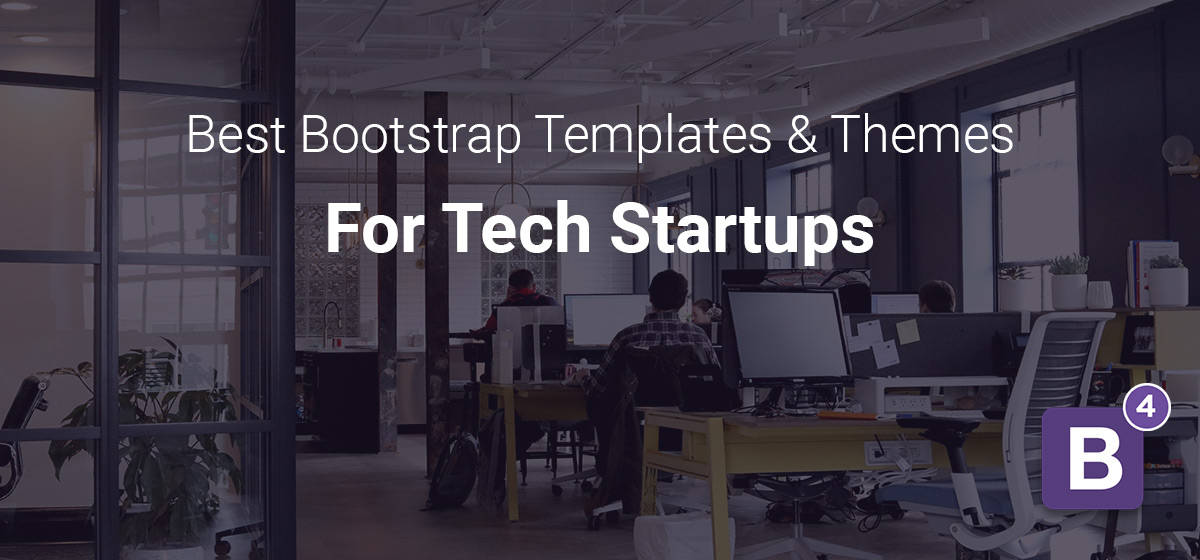 Building a tech startup is hard. Launching a successful startup website is hard too! A well designed startup website plays a vital role in selling your product or services to your potential customers. Before designing your startup website you should always ask yourself the question: How can the website promote and sell my product/service to my target audience effectively?
We believe your startup website UX/UI design should always serve your business goals. When we design our Bootstrap templates and themes for tech startups we always make sure the design is focused on promoting your product/service. We want our templates to serve your startup not only as a professionally designed frontend template but also as an effective marketing framework.
Below is a list of our best Bootstrap 4 templates and themes tailored for different types of tech startups. Some are premium themes designed for more established startups and some are free templates designed for solopreneur developers or small teams.
All of our templates and themes are built on Bootstrap 4 and includes source SCSS files for easy customisation.
For SaaS/Digital Product Startups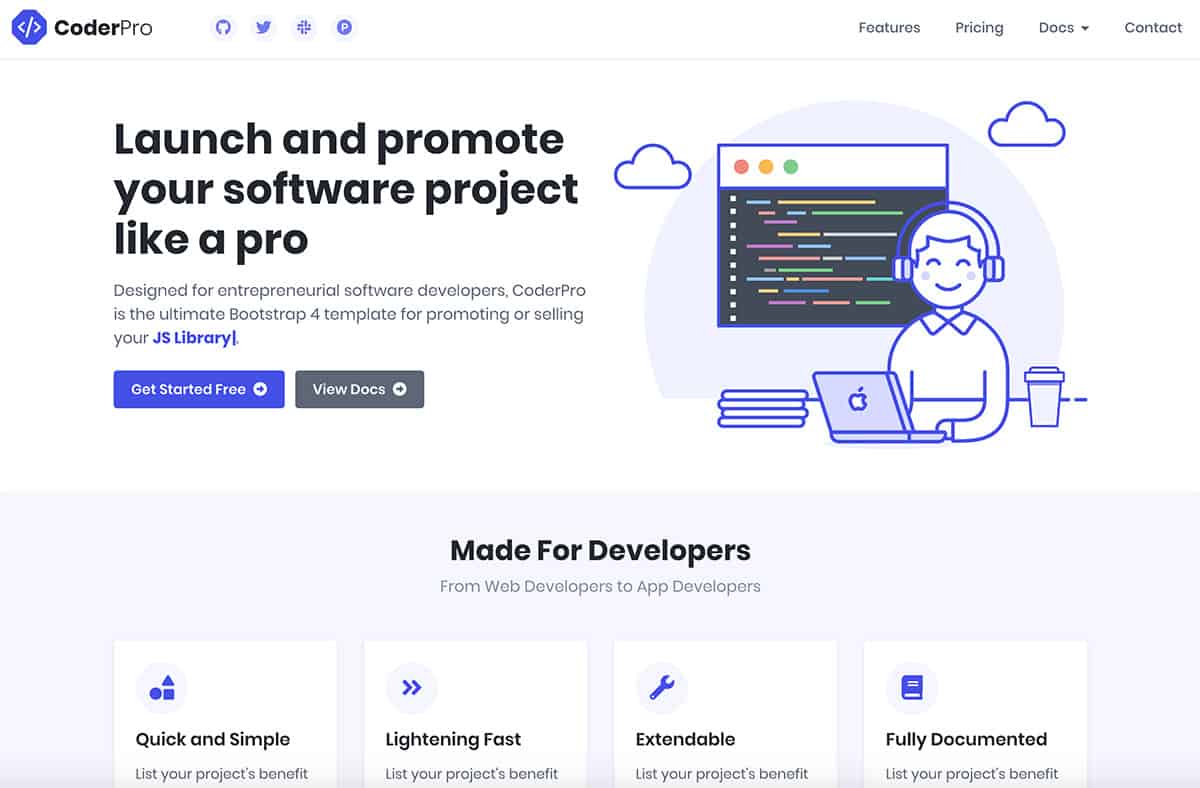 CoderPro is the ultimate Bootstrap 4 startup site template for promoting your software projects. It's designed with software developers in mind and it can help you launch your startup product like a pro. You can use it to market your JavaScript library, jQuery plugin, browser extension, CMS plugin, mobile app or open source project. It contains all the essential pages (eg. features, pricing and docs page) and components (eg. code snippets, FAQ accordions) for a successful SaaS product site. Want to get a taste of the template first? You can download the docs pages for free here.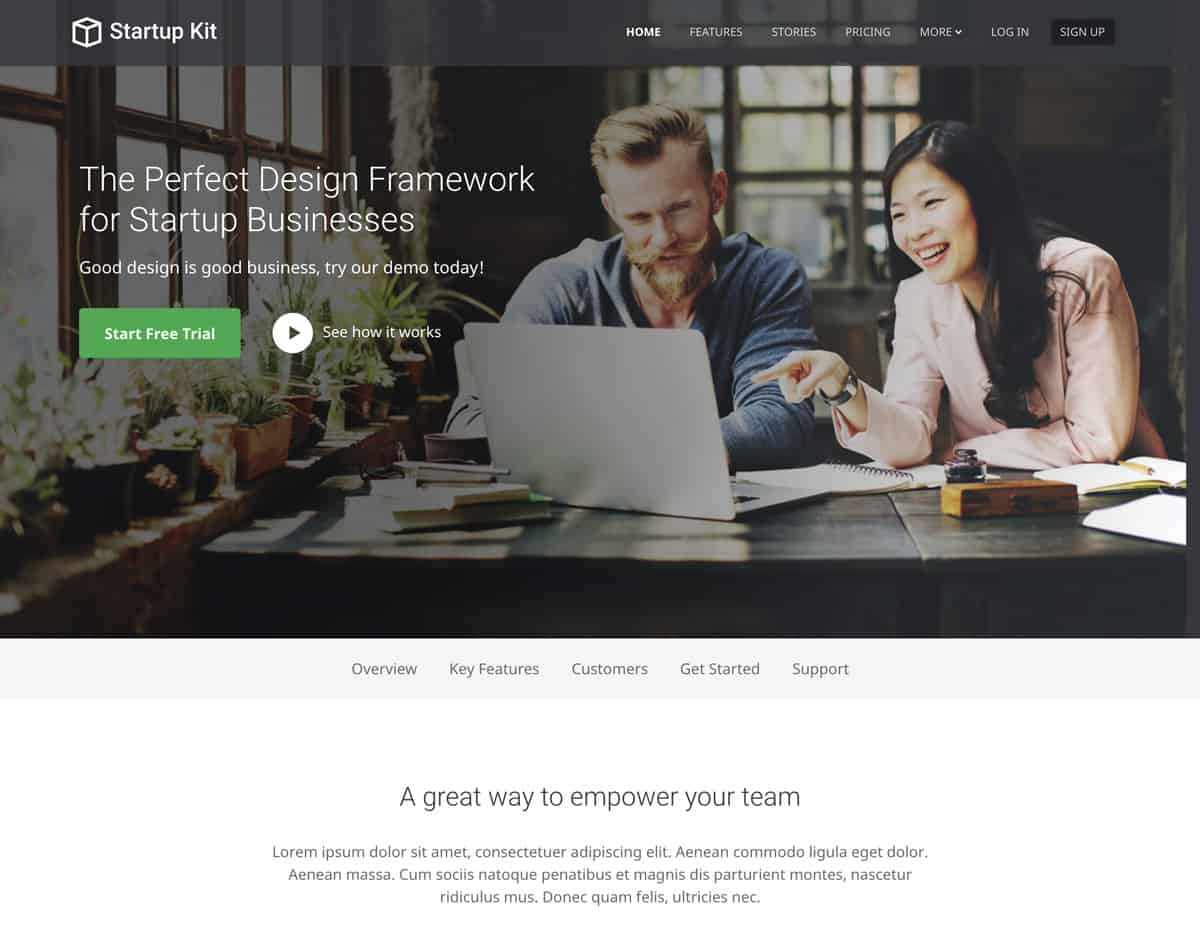 Startup Kit is one of our best-selling startup site templates built with Bootstrap 4. It has all the essential pages and is best for a small/medium startup. If your startup has great social proofs, the landing page combined with the dedicated customer stories page will work wonders to boost your new user conversion.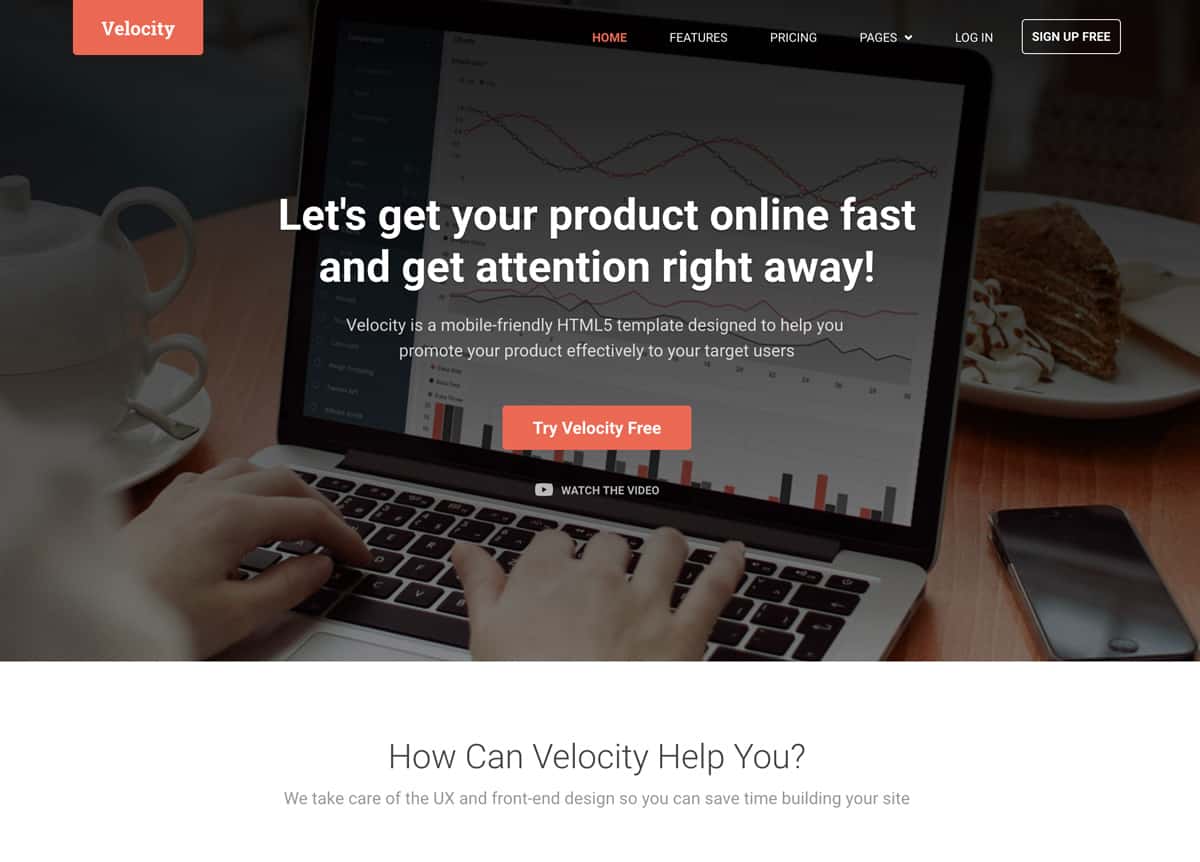 Velocity is a very popular startup site template among medium startups who have established products. The design follows the classic AIDA (Attention-Interest-Desire-Action) formula to engage/influence your users to take actions. If your startup sells digital products as a service this is the template you should take a look at.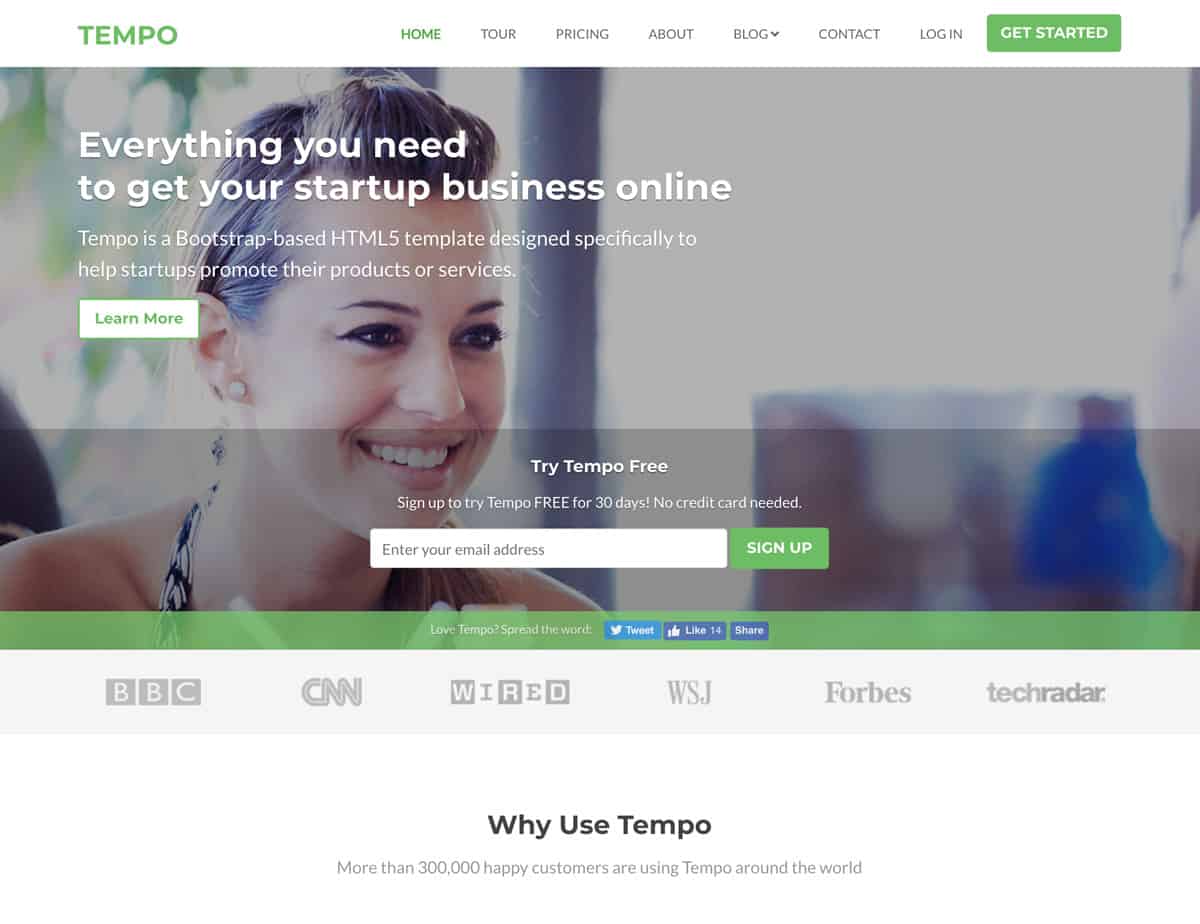 Tempo is a streamlined startup site template designed for startups who just want a quick web presence to promote their MVP products. You can even use this template to test and validate your product idea before spending time/money developing the actual product.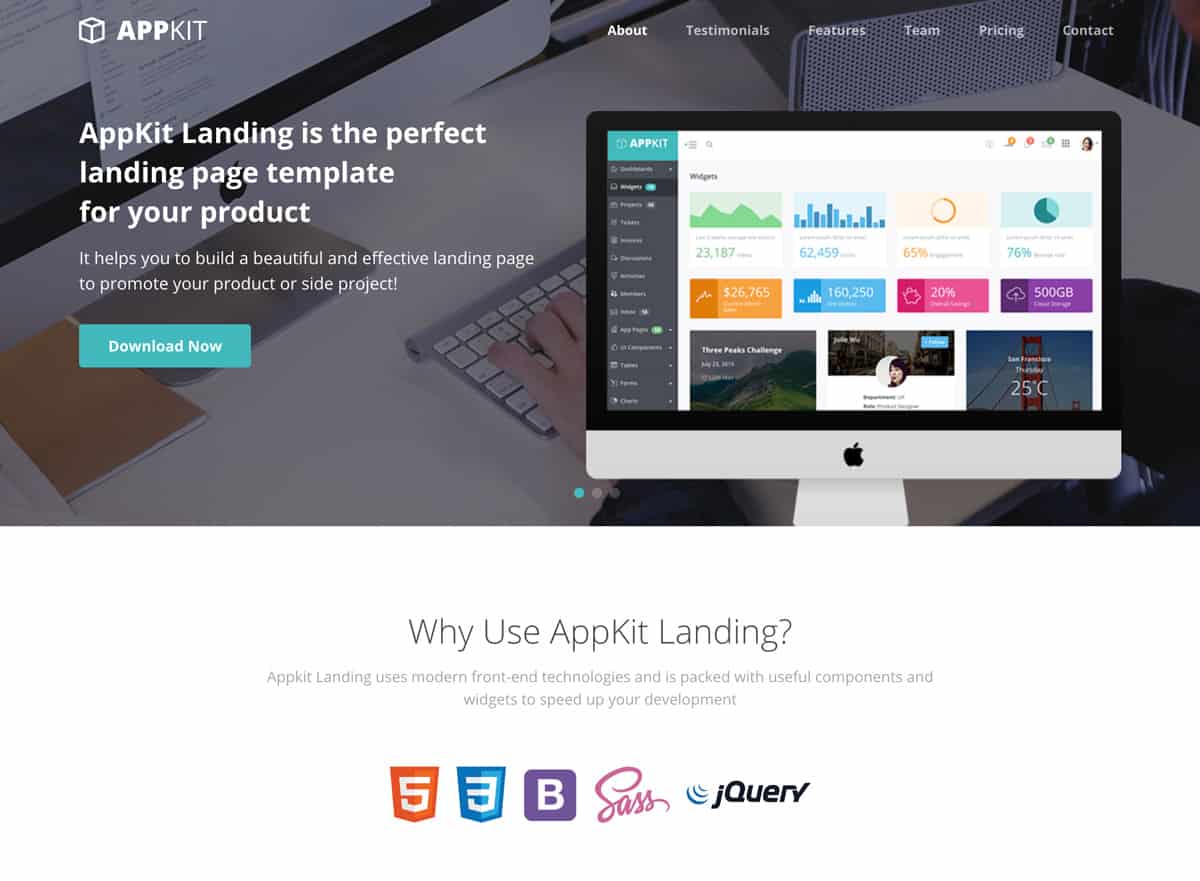 Appkit Landing is a free startup landing page built with Bootstrap 4. It's perfect for the solopreneur developer who wants to create and sell their own digital products. It's a one page site template but it still has all the key ingredients to promote your product. This template requires minimum setup time and you can start selling your product in a couple of hours.
For Mobile App Startups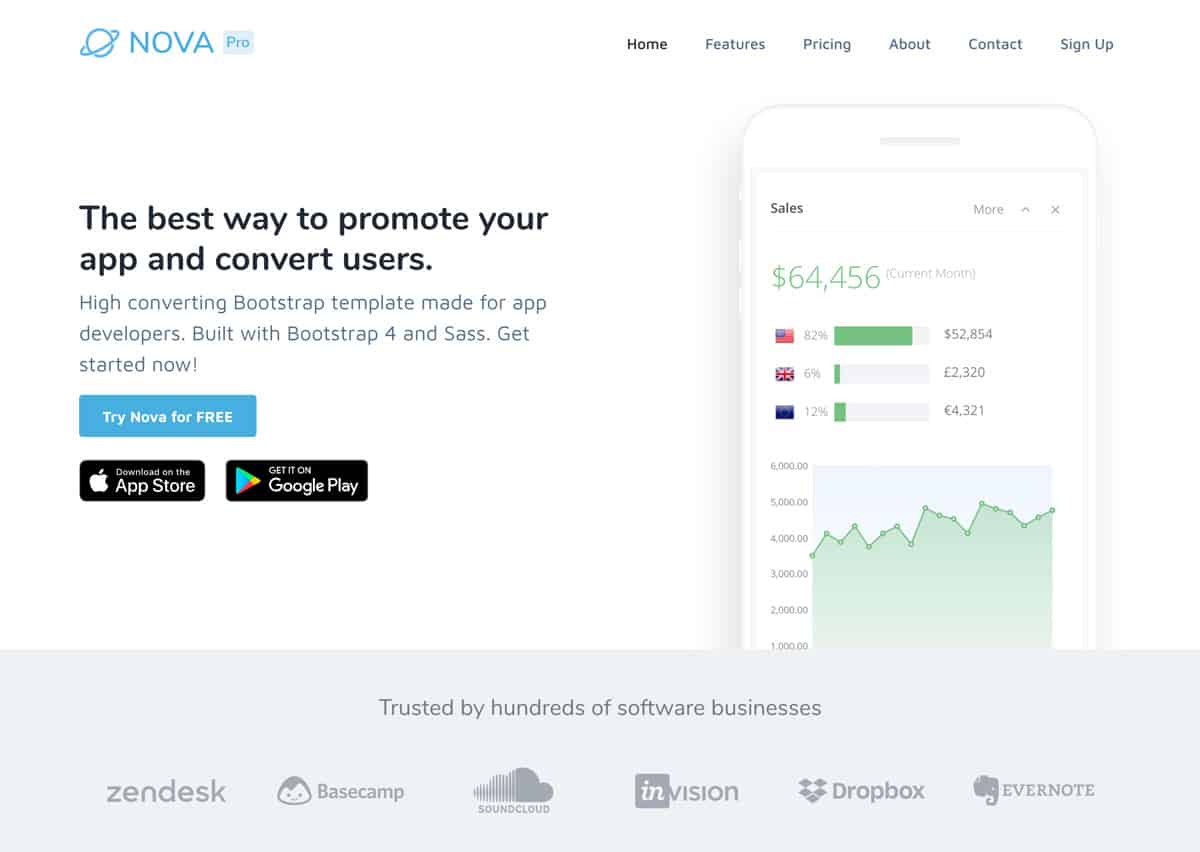 Nova Pro is a super modern and elegant website template solution for mobile app startups. The design concentrates on showing all your app's features and benefits to your target audience. It's the perfect Bootstrap template for any established mobile app startup. Thinking of revamping your app marketing site? Don't miss Nova Pro!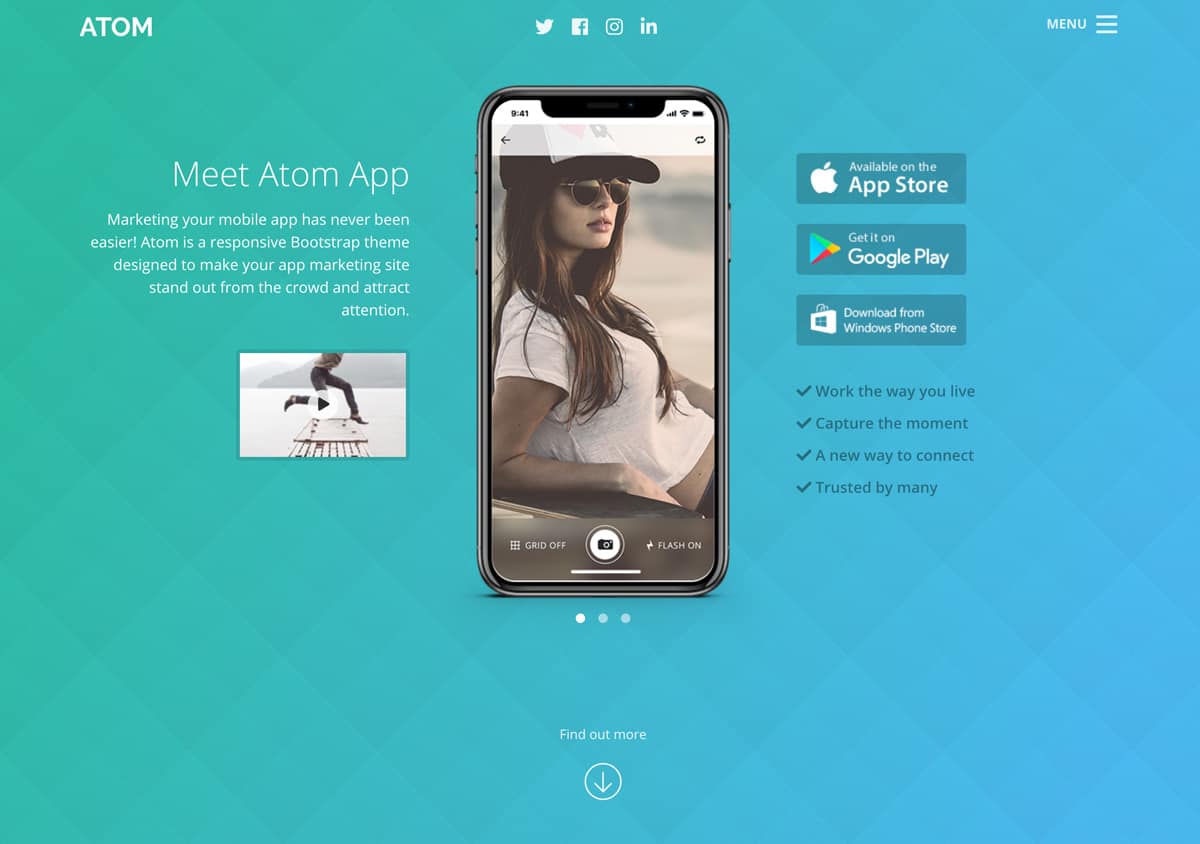 Atom is a popular Bootstrap 4 site template designed for mobile app startups. Like our Nova Pro theme, it's designed for more established startups. It comes with all the essential page designs to cover your startup site needs. The beautiful gradient colours used throughout the theme are built into the theme css so you can change them easily to match your app branding.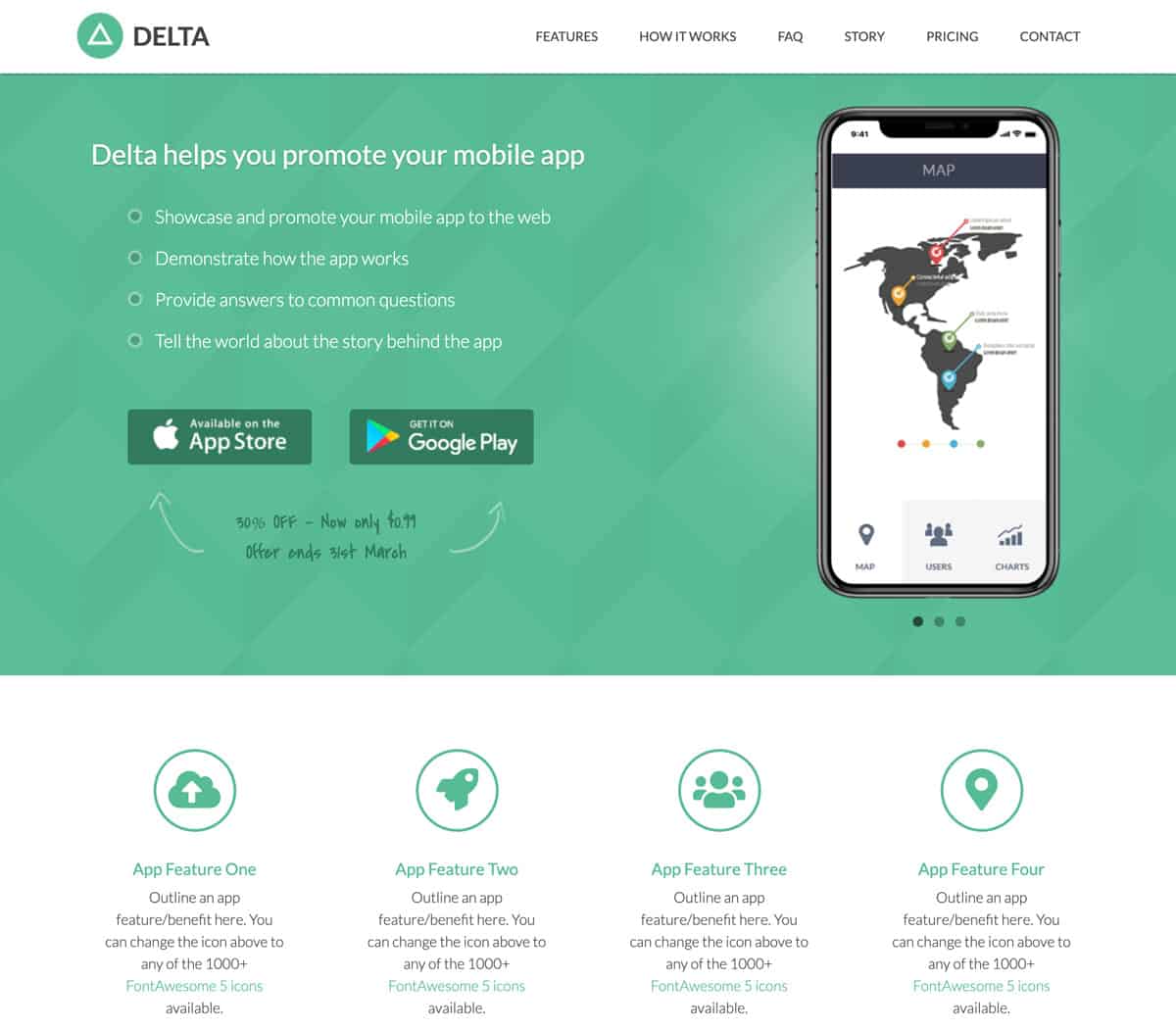 Delta is the best mobile app landing page site template for indie iOS and Android app developers. It's simple yet very effective and used by thousands of app developers to promote their apps. If you're a solopreneur app developer, Delta is a great one page starter template to promote your mobile app to the world.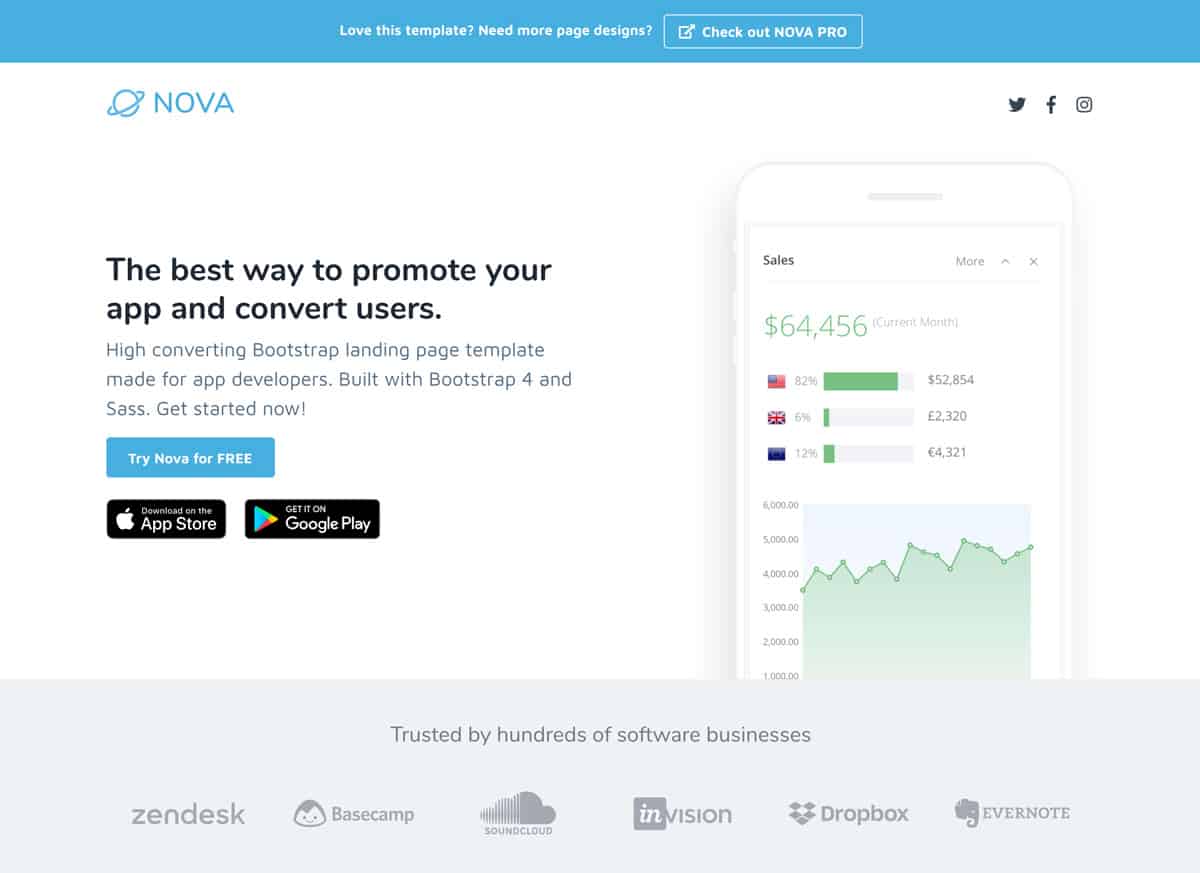 Nova is a free app landing page template built with Bootstrap 4. It's great for quickly putting together a landing page for your app marketing campaign to encourage users to download your app.
For Startup Web Agency Businesses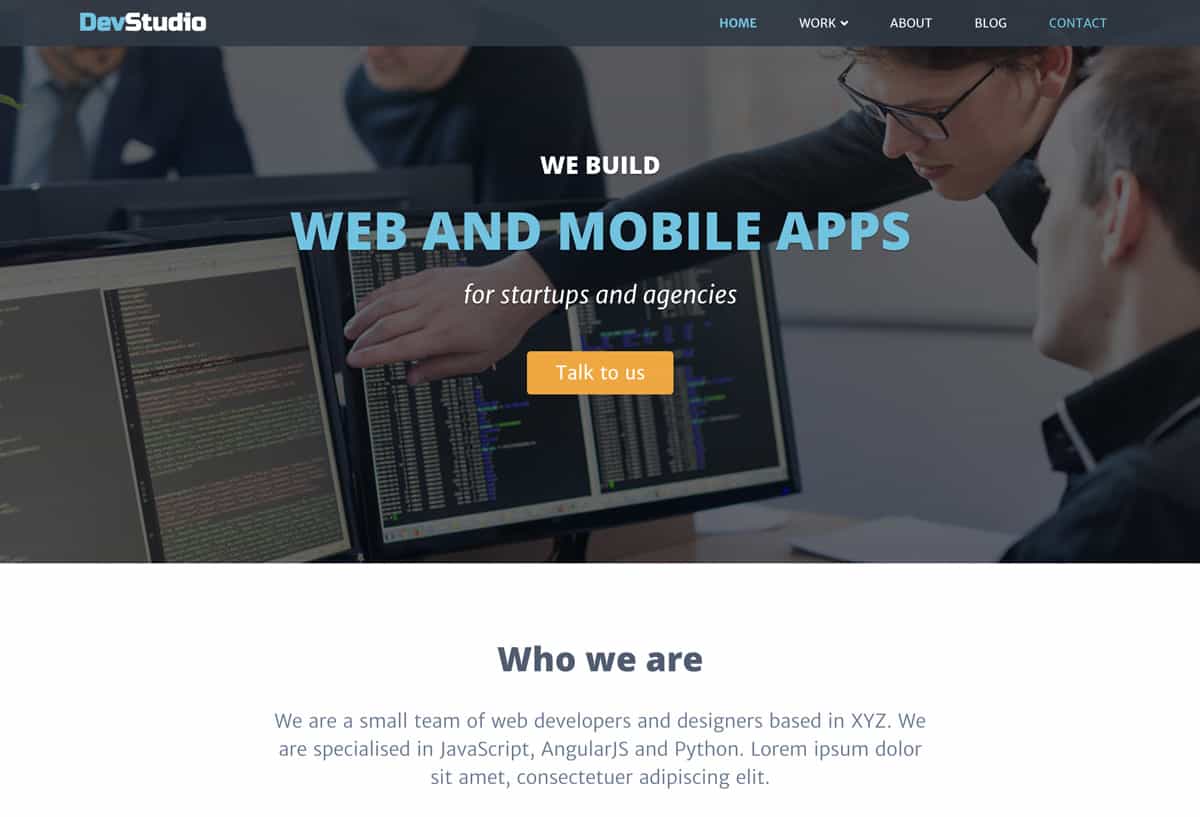 Are you a software developer who wants to start your own web development agency business? DevStudio is designed just for you. This template can help you build a professional-looking agency site to impress and attract bigger and better clients. Small teams can do big things, so don't let your business website design hold you back!
For Startup Crowdfunding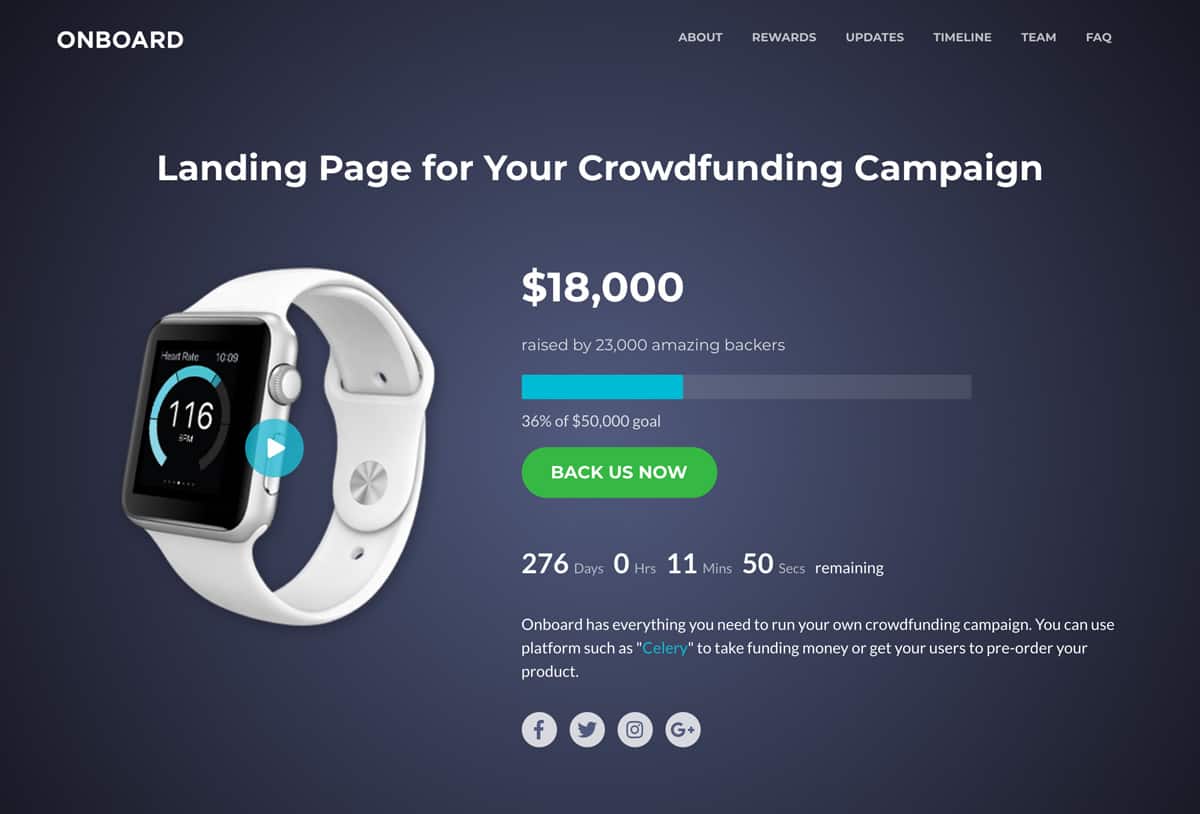 Onboard is a one page site template designed for product crowdfunding. If you want to launch your startup via crowdfunding or simply want to validate your product idea by getting users pre-ordering your digital/physical tech product, this template is for you. Built with Bootstrap 4 and SCSS, you can easily customize the template to work for your product debut.