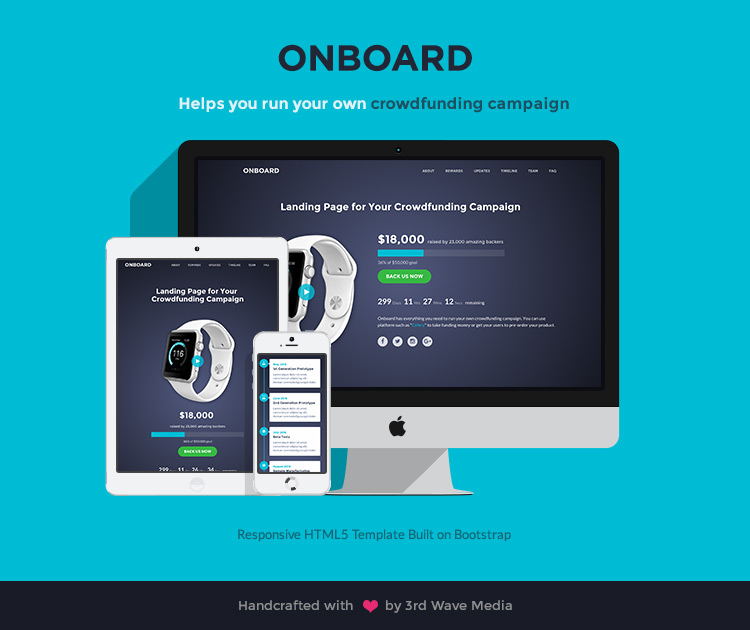 Responsive Bootstrap Theme for Crowdfunding Campaigns
Onboard is a responsive landing page for product crowdfunding campaigns.
It has everything you need to roll your own crowdfunding campaign. You can use platform such as "Celery" and "Gumroad" to take funding money or get your users to pre-order your product.
The template's source LESS files are included so customising the template's styling and colour scheme is quick and easy.
NEW
Updated to Bootstrap v4
(Bootstrap 3.3.7 version is available upon request)
---
Follow us on Twitter to be notified when we release updates and free templates.

Details
Features
Fully Responsive
HTML5 + CSS3
LESS files included
Built on Bootstrap 4.x
2 colour schemes
600+ FontAwesome icons
200+ Pixeden icons
jQuery countdown
Video modal
Timeline
Client-side form validation
---
---
Changelog
Changelog
v2.1 – 2018-02-14
Updated Bootstrap to v4.0.0
Affected files
onboard > assets > plugins > bootstrap (folder)
v2.0 (Bootstrap v4.0.0-beta.2) – 2017-11-20
Refactored the theme to work with Bootstrap v4.0.0-beta.2
v1.1.3 – 2017-06-12
Updated FontAwesome to v4.7.0
Affected files
onboard > assets > plugins > font-awesome (folder)
v1.1.2 – 2016-07-28
Updated Bootstrap to v3.3.7
Affected files
onboard > index.html (updated jQuery)
onboard > assets > plugins > bootstrap (folder)
v1.1.1 – 2016-05-31
Updated jQuery to v1.12.3
Updated FontAwesome to v4.6.3
Affected files
onboard > index.html (updated jQuery)
onboard > assets > plugins > font-awesome (folder)
v1.1 – 2016-05-09
Improved Bootstrap related code
Updated FontAwesome to v4.6.2
Affected files
onboard > index.html
onboard > assets > plugins > font-awesome (folder)
v1.0 – 2016-02-24
Credits