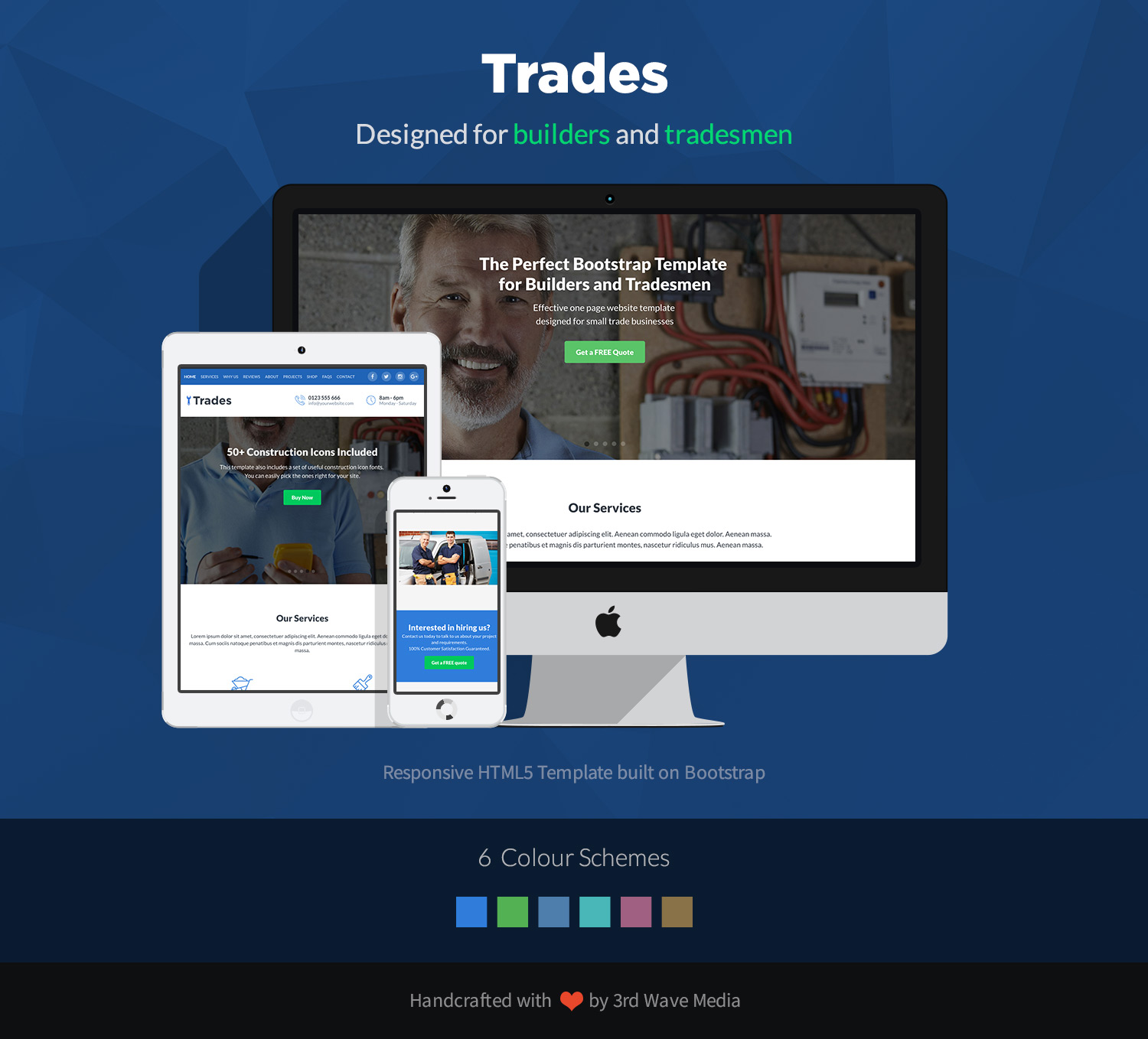 Responsive Bootstrap Theme for Builders and Tradesmen
Trades is an effective one page website template designed for small trade businesses. We've done our research and included all the winning elements in the template. The design is UX centred and the goal is to persuade and convince potential customers to hire you for their projects. The code is clean, SEO-friendly and comes with the SASS source files for easy styling and colour customisations.
We've also included a working contact form (PHP+Ajax) to save you time. All you need to do is change the email address in the mailer.php file. Want to test the contact form? The form is hooked up to our email address for demo purposes. If you submit the form with your real email address we can forward you the submitted form results.
There are 50+ useful construction icon fonts in the template too. You can easily pick the ones right for your site.
Want to build sites for trade businesses? We've laid the foundation for you so you can easily build successful sites for builders, plumbers, electricians, carpenters and many more.

NEW New Bootstrap 4 Version (Bootstrap 3.3.7 version is available upon request)
NEW SASS source files included

Details
Features
Fully Responsive
HTML5 + CSS3
SASS source files included
Built on Bootstrap 4
Project modals
6 colour schemes
50+ construction icons
1000+ FontAwesome icons
Client-side form validation
Working contact form (PHP + Ajax)
---
Changelog
Changelog
v3.0 – 2018-06-21
Updated Bootstrap to v4
Updated FontAwesome to v5
Updated plugin libs
Used SASS instead of LESS
Theme improvements
v2.1 – 2018-02-14
Updated Bootstrap to v4.0.0
Affected files
trades > assets > plugins > bootstrap (folder)
v2.0 (Bootstrap v4.0.0-beta.2) – 2017-11-16
Refactored the theme to work with Bootstrap v4.0.0-beta.2
v1.0.3 – 2017-06-12
Updated FontAwesome to v4.7.0
Affected files
trades > assets > plugins > font-awesome (folder)
v1.0.2 – 2016-07-28
Updated Bootstrap to v3.3.7
Affected files
trades > assets > plugins > bootstrap (folder)
v1.0.1 – 2016-05-31
Updated FontAwesome to v4.6.3
Affected files
trades > assets > plugins > font-awesome (folder)
v1.0 – 2016-04-22
Credits