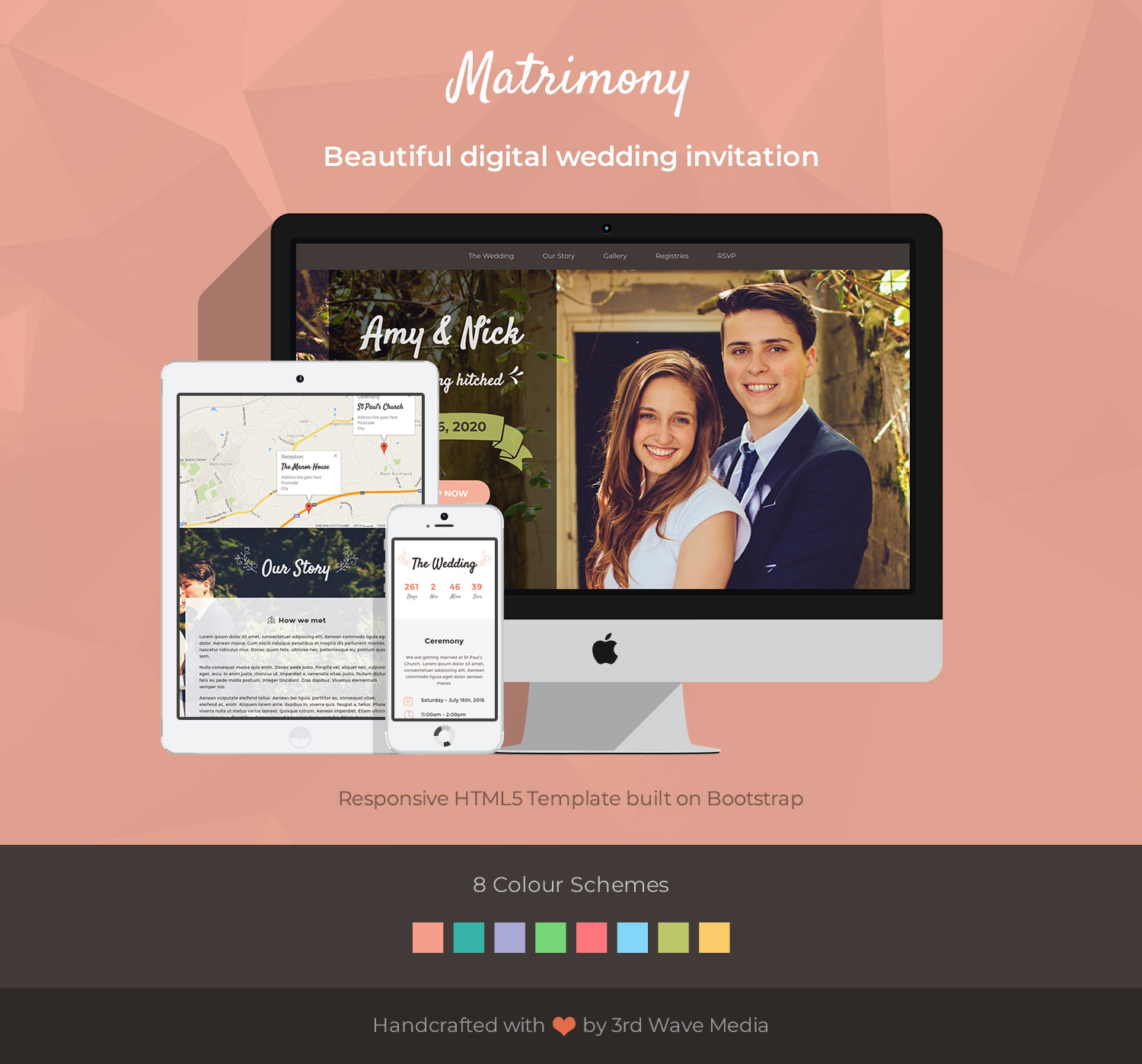 Bootstrap 4 Template for Wedding Invitations
Matrimony is a Bootstrap 4 wedding invitation template. It comes with 8 hand-picked color schemes and you can change the look and feel of the template by changing the font or color to suit the wedding. The source SCSS files are included so making styling customisations is super quick and easy.
Are you a developer getting married?
This template will be the perfect base for building your own online wedding invitation. All of the elements/graphics in the template are customisable. Instead of sending out paper invitations, this template can save you time, energy and money and you really don't want to miss it!
Is your friend getting married?
Using this template, you can knock up a beautiful and impressive invitation site for your friend's wedding in no time. The bride and groom will get the best wedding present ever and all of the wedding guests will appreciate and remember what you've done!
Are your clients looking for wedding sites?
Add this template to your toolkit now and you can start offering wedding sites to your clients as soon as possible! It saves you time and design effort and it is great value for money. If you are looking to expand your web development business' client base then you need to get this template today!
Working RSVP form (PHP + Ajax)
NEW
The RSVP form is wired up using PHP. All you need to do is to change the email address in mailer.php
Want to test the RSVP form?
The RSVP form is hooked to our email address for demo purpose. If you submit the form with your real email address we can forward you the submitted form results.
Modals

Details
Latest Version
v4.1.1 – 2020-04-23
Features
Fully Responsive
HTML5 + CSS3
SASS source files included
Built on Bootstrap 4
8 Color schemes
39 love icons
1000+ FontAwesome 5 icons
jQuery countdown
Client-side form validation
Working Ajax contact form (PHP)

NEW
Changelog
Changelog
v4.1.1 – 2020-04-23
Updated Bootstrap and FontAwesome
Minor theme improvements
v4.1 – 2019-10-17
Updated FontAwesome and jQuery
v4.0 – 2019-03-19
Updated Bootstrap to v4.3
Updated FontAwesome
Updated plugin libs
Used embedded Google map instead of Google map API because Google now charges for JS API requests.
v3.0 – 2018-06-20
Updated Bootstrap to v4.1
Updated FontAwesome to v5
Updated plugin libs
Used SASS instead of LESS
v2.0 – 2018-02-15
Initial release for Bootstrap 4
Credits