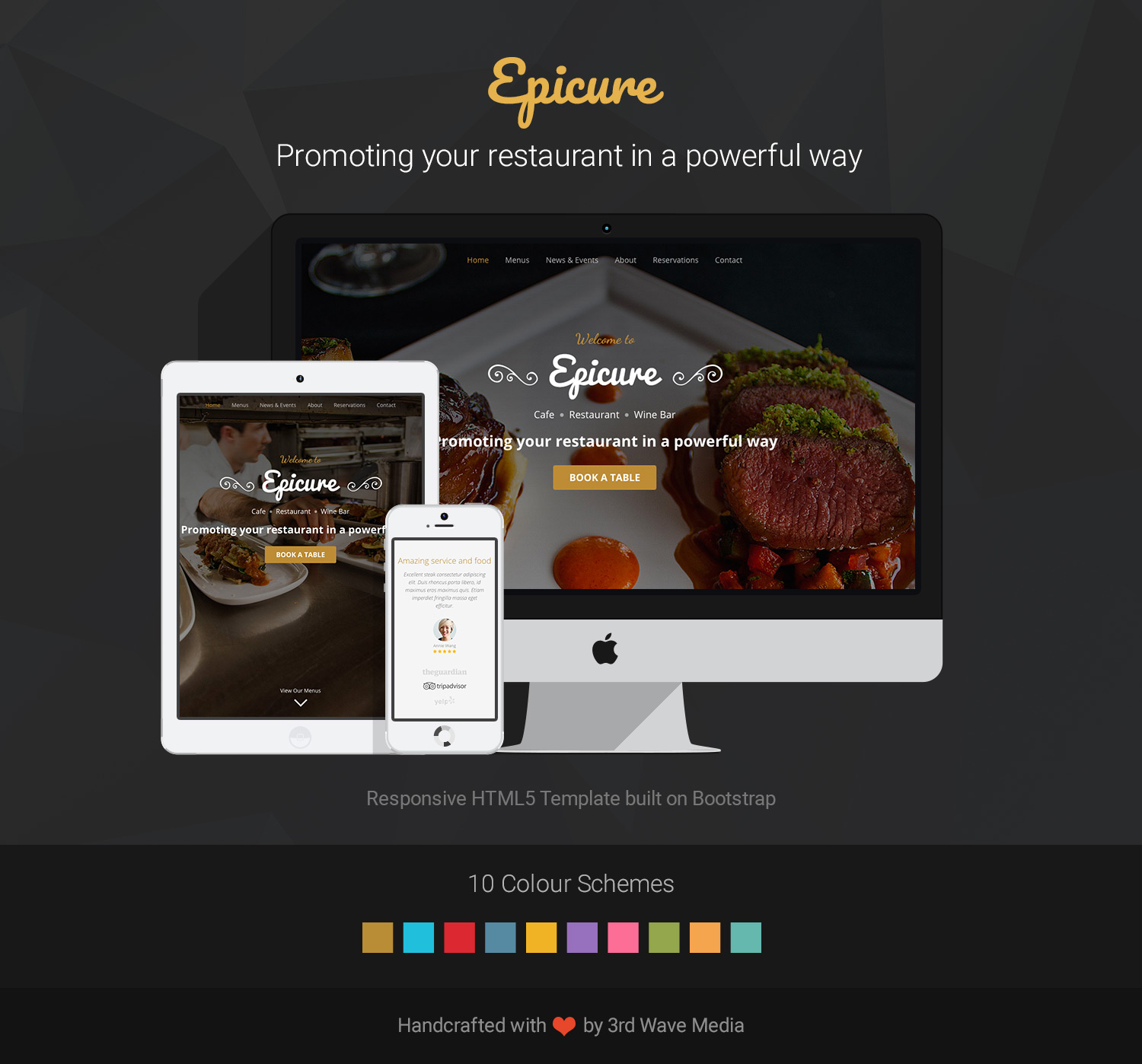 Bootstrap 4 Restaurant Template
Epicure is a super practical Bootstrap 4 template designed for mid-high end restaurants. The UX design is focused on converting first-time customers with an enticing first impression and clear call-to-action.
The landing page covers all of the essential elements/information a restaurant would need yet strictly keeps things to a minimum to avoid unnecessary bloating. Because of the simplicity of the template, it's quick and easy to set up your own version.
If you believe less is more and would like to build a powerful restaurant marketing site in minutes, you don't want to miss this template!
Working Booking Form (PHP + Ajax)
Added working booking form to save you time. You just need to change the email address in mailer.php
Want to test the Booking form?
The booking form is hooked to our email address for demo purpose. If you submit the form with your real email address we can forward you the submitted form results.

Details
Latest Version
v4.1.1 – 2020-04-23
Features
Fully Responsive
HTML5 + CSS3
SCSS source files included
Built on Bootstrap 4
10 Color schemes
1000+ FontAwesome 5 icons
Flexslider
Client-side form validation
Working Booking Form (PHP + Ajax)
Changelog
Changelog
v4.1.1 – 2020-04-23
Updated Bootstrap and FontAwesome
Updated plugin libs
v4.1 – 2019-10-17
Updated FontAwesome and jQuery
v4.0 – 2019-03-22
Updated Bootstrap to v4.3
Updated FontAwesome
Mobile styling improvements
Affected files
epicure > assets > plugins > bootstrap (folder)
epicure > assets > css (folder)
epicure > index.html
v3.0 – 2018-06-21
Updated Bootstrap to v4.1
Updated FontAwesome to v5
Updated plugin libs
Used SASS instead of LESS
v2.3 – 2018-02-14
Updated Bootstrap to v4.0.0
Affected files
epicure > assets > plugins > bootstrap (folder)
v2.1 – 2017-11-11
Updated Bootstrap – Use v4.0.0-beta.2
Affected files
epicure > assets > plugins > bootstrap (folder)
v2.0 (Bootstrap v4.0.0-beta) – 2017-10-20
Initial release for Bootstrap 4
Credits