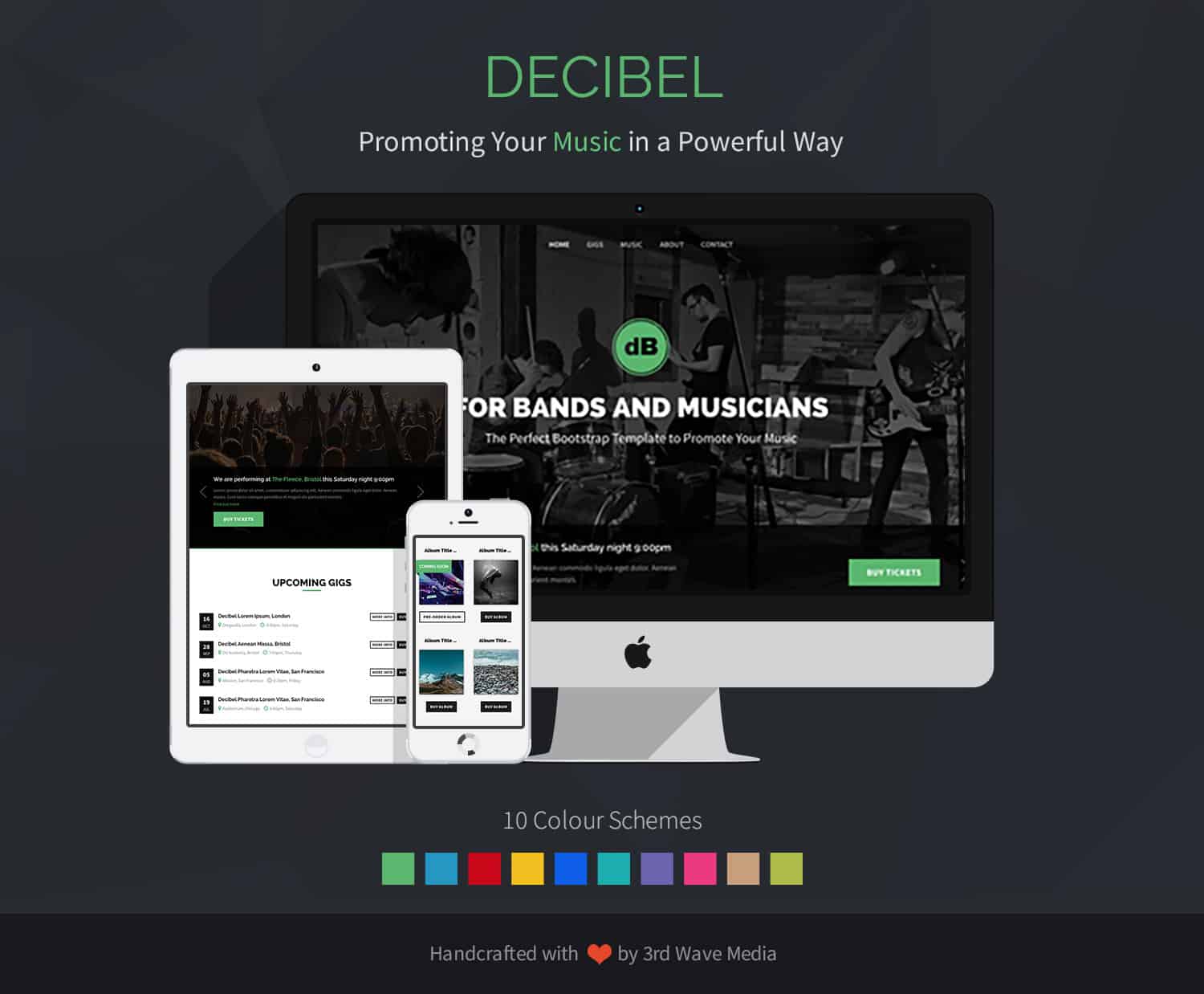 Bootstrap 5 Music Template for Bands/Musicians
Decibel is a Bootstrap 5 music landing page template designed to help independent bands/musicians promote their music.
This template is a great marketing tool and you can use it as a music portal to keep your fans updated with your latest music/news/gigs. It has clear call-to-actions to direct your fans to buy your music or attend your gigs via popular platforms such as iTunes, Bandcamp, Pledgemusic and Kickstarter.
The template is simple and super practical so it's quick and easy to setup. It comes with 10 hand-picked color schemes and the SCSS source files are included so customising the template's styling and color scheme is very easy too.
Want to promote your music to your fans in a effective and powerful way? You need to check out this template!
Details
Latest Version
v2.3 – 2023-09-19
Features
Fully Responsive
HTML5 + CSS3
SCSS source files included
Built on Bootstrap 5 (no jQuery)
10 Color schemes
FontAwesome icons
Countdown timer
Changelog
Changelog
v2.3 – 2023-09-19
Updated Bootstrap and FontAwesome
v2.2 – 2023-06-21
Updated Bootstrap to v5.3
Updated styling
v2.1 – 2022-06-07
Updated to Bootstrap v5.2
Updated libs
Minor styling fixes
v2.0 – 2021-05-17
Updated to Bootstrap 5 stable
v1.0 – 2020-10-24
Bootstrap 5 version initial release
Credits
Bootstrap 5