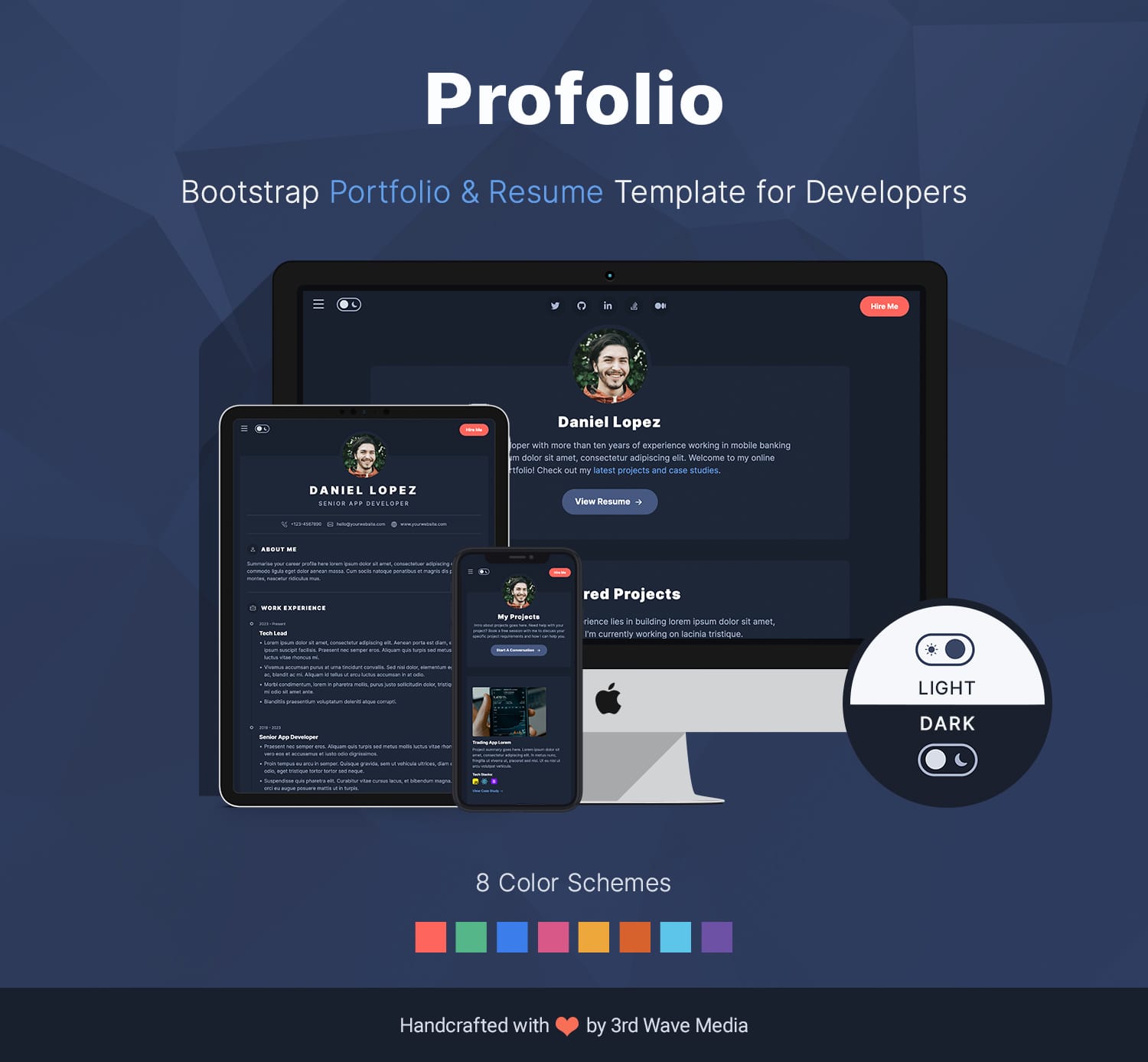 Bootstrap 5 Online Portfolio & Resume Template for Software Developers
Profolio is a modern dark-themed Bootstrap online portfolio template made for software developers and engineers. It's designed primarily for developers and engineers who prefer an elegant and on-trend dark UI for their personal sites. This template is structured following a winning formula to help developers showcase their capabilities in full and attract high-paying opportunities.
The about page (home) is the perfect space for you to give site visitors a quick overview of you as a developer and also as a person. This is also the space for you to highlight all of your best projects, client testimonials and tech stack.
The projects page is designed for you to showcase your best personal and client projects. You can either link a project to its dedicated external site (eg. project Github page) or link to a case study page to demonstrate your tech capabilities and soft skills (eg. problem solving skills and team communication skills etc).
The resume page is super sleek and scannable. It contains all of the essential elements to make your next job application stand out in front of your potential employer and client. Want to try the resume template out for free? You can download it here.
The blog pages (blog home and blog post) are clean and simple. You can easily hook up the front-end design elements with your desired blog back-end system. Blogging is great for you to share your professional or personal stories to show your potential employers and clients who you are professionally and personally. It will also boost your site's SEO which leads to more opportunities in the long run.
Built on Bootstrap 5 and SASS, Portfolio template is quick and easy to customize. Using this template, you can get your bespoke portfolio site online and start attracting new opportunities in little to no time.
Want your portfolio site to look elegant on mobile devices?
This template is optomized for mobile and it employs an app-like bottom navigation bar in mobile views.
Not a big fan of dark-themed UI and want a light-themed portfolio template instead?
No problem. This template has you covered too as it also contains a light version. You can also take a look at our other portfolio templates here.
Dark/Light Mode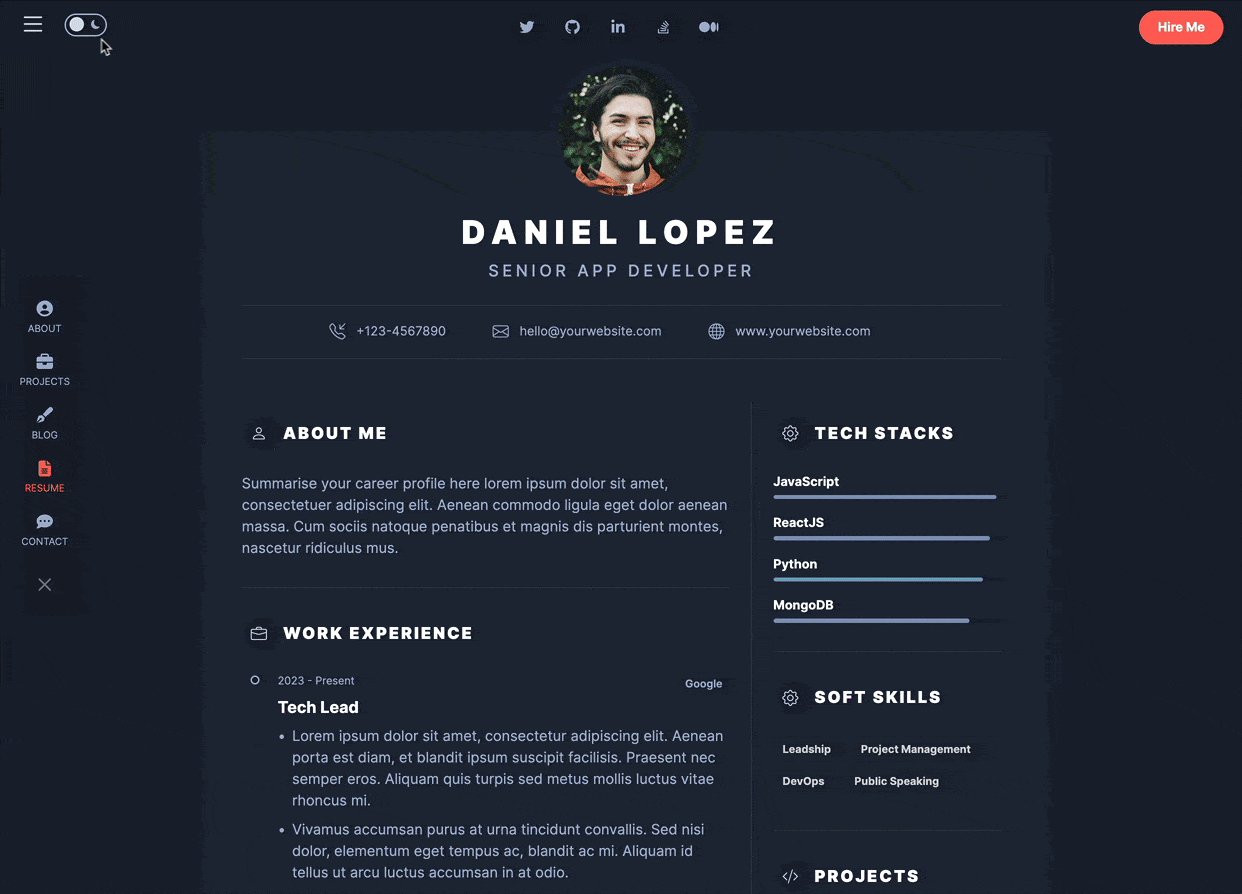 Want to use the light mode for your site instead of the default dark mode?
You just need to add class "light-mode" to the page <body> tag!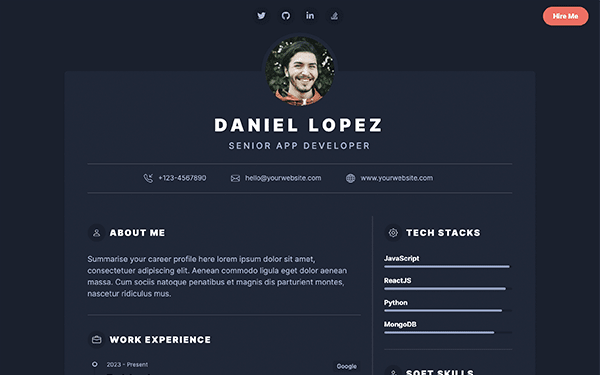 Want to get a taste of the template?
We've released the resume page as a FREE template.
Want to have a printable version of the resume?
We've released a FREE Sketch design template Risen Sketch.
Details
Latest Version
v1.2 – 2023-09-19
Features
Fully Responsive
HTML5 + CSS3
Built on Bootstrap 5
Theme SCSS source files included
8 Color Schemes
9 Page Designs
FontAwesome icons
Bootstrap icons
Changelog
Changelog
v1.2 – 2023-09-19
Updated Bootstrap and FontAwesome
v1.1 – 2023-06-10
v1.0 – 2023-02-02
Credits
Credits
All images are shown for demonstration purposes only.
Bootstrap 5