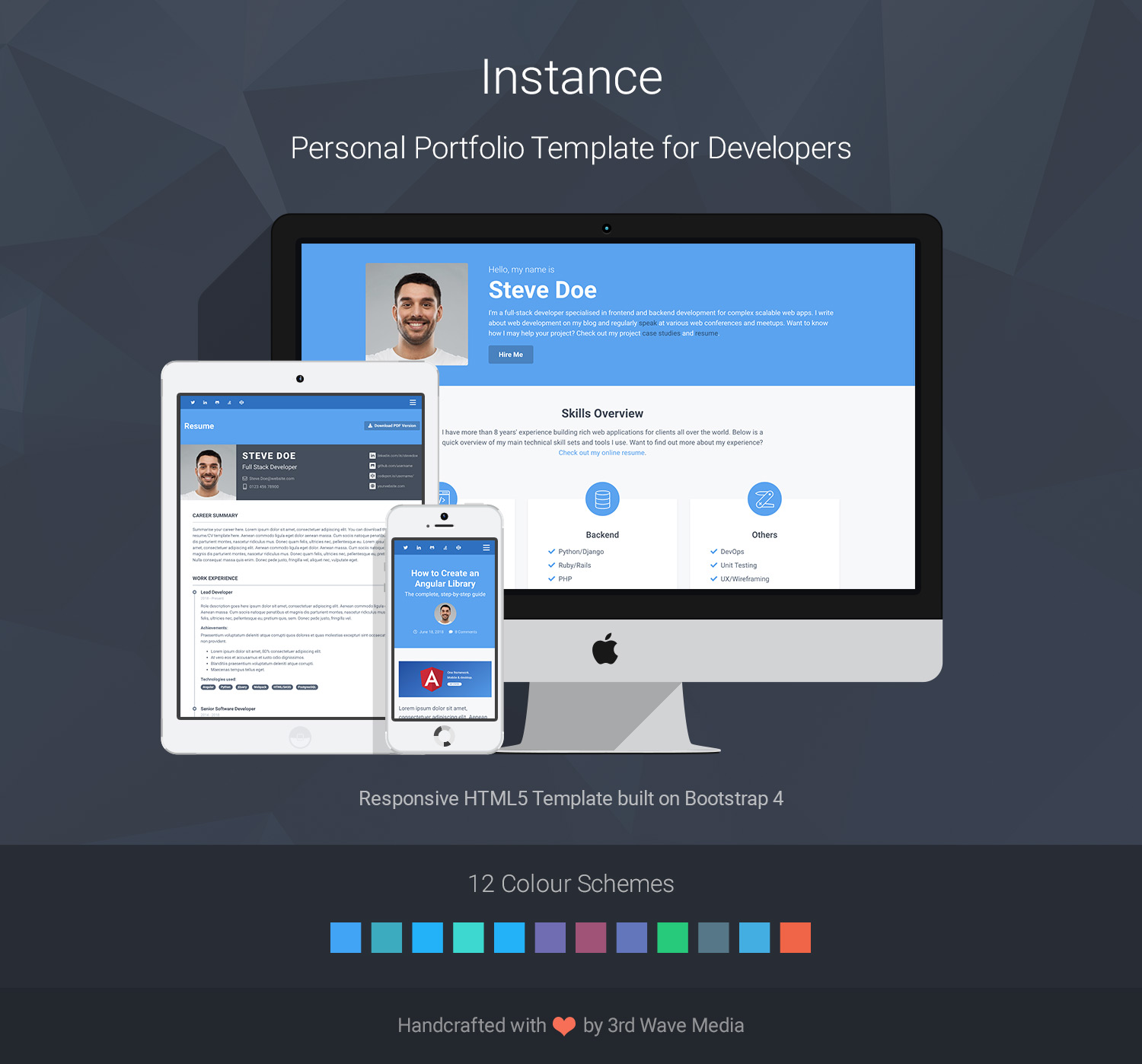 Bootstrap 4 Personal Portfolio Template for Aspiring Developers
Instance is a Bootstrap 4 portfolio template tailored for developers. The UX design is focused on selling a developer's skills and experience to potential employers or clients, and has all the winning ingredients to get you hired. It's not only a HTML site template but also a marketing framework for you to build an impressive online presence with a high conversion rate. If you are a senior full-stack developer, this template is perfect for you to build your personal brand online. If you are a junior developer, you can pick the sections/pages to get a basic online presence first and scale up your portfolio as your skills and experience grow.
Built on the latest Bootstrap 4 framework and SASS, all the sections/components were written in a modular way so its quick and easy to customise the template to suit your needs. This template comes with 16 hand-picked color schemes and it's super easy to customise your own color scheme via the theme SCSS source file. The mobile viewing experience is great too so even people checking your site on the go won't miss any important information/details about you!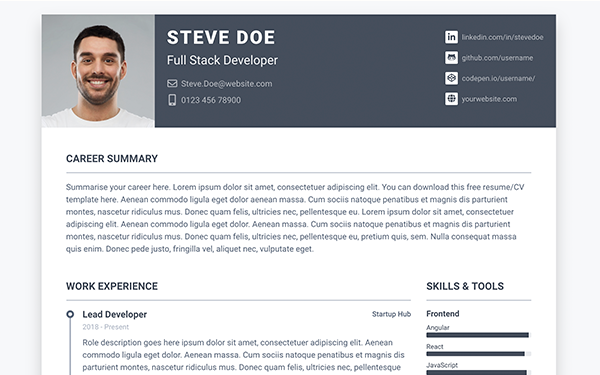 Want to get a taste of the template?
We've released the Resume page as a FREE template.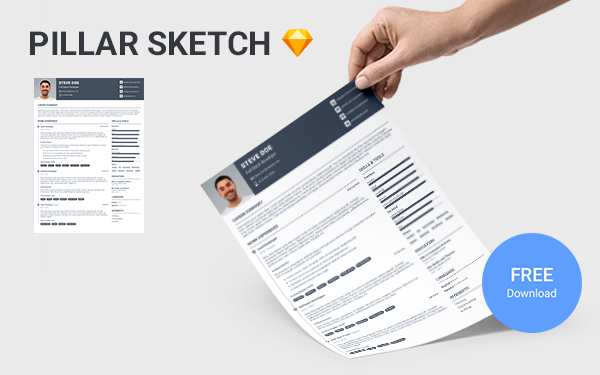 Want to have a printable version of the resume?
We've released a FREE Sketch design template Pillar Sketch.
Reviews
If you are using this theme, you're welcome to leave a review below.
Details
Latest Version
v1.3.2 – 2020-10-10
Features
Fully Responsive
HTML5 + CSS3
Built on Bootstrap 4
Theme SCSS source files included
16 Color Schemes
30 Webdev technology icons
1000+ FontAwesome 5 icons
Client-side form validation
Changelog
Changelog
v1.3.2 – 2020-10-10
Updated Bootstrap and FontAwesome
v1.3.1 – 2020-04-18
Updated FontAwesome and Bootstrap
Updated popper.min.js
Minor improvements
v1.3 – 2019-10-18
Updated FontAwesome and jQuery
v1.2 – 2019-04-08
Minor styling fix
Used AutoPrefix for compiling SCSS files
Affected files
instance > assets > css (folder)
scss > theme > _base.scss
v1.1 – 2019-03-20
Updated Bootstrap 4 and FontAwesome
v1.0 – 2018-05-28
Credits
Credits
All images are shown for demonstration purposes only.