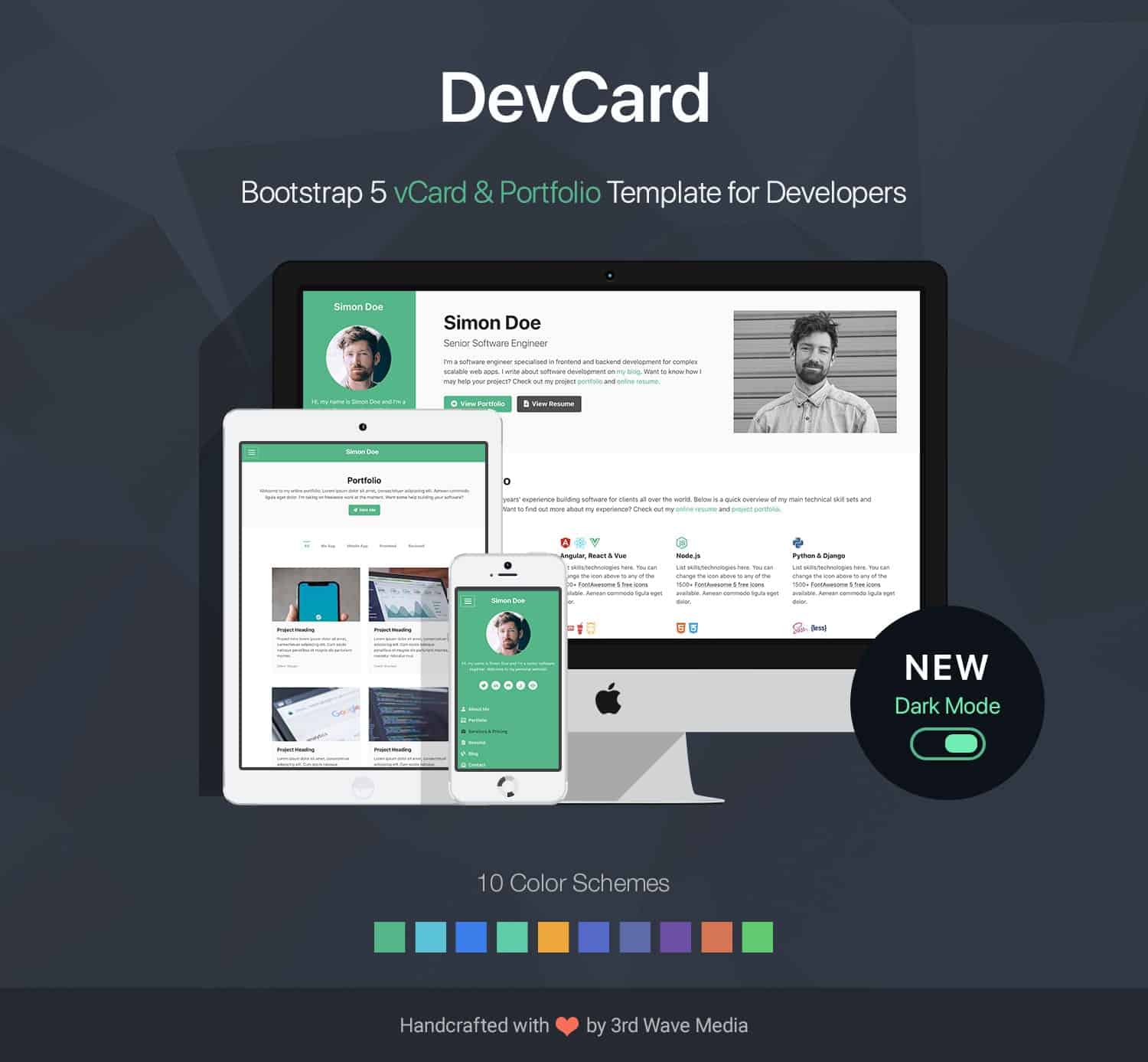 Bootstrap 5 vCard & Portfolio Template for Software Developers
DevCard is a Bootstrap 5 vCard and Portfolio template made for software developers. It's designed to present and market your skills and work experience to potential clients or future employers in the most professional and effective way. Using this template, you can quickly set up an impressive online portfolio/vCard to land more work or job offers. If you're a freelance software developer and wanted to offer productized services to your clients, the services & pricing page has the perfect pricing table design for you. Want to drive organic traffic to your site? The blog pages can help you set up your professional blog with minimal design effort. The portfolio and resume pages can help you attract interests from new clients/employers. The contact page is there to capture any job leads.
Built on Bootstrap 5 and SASS, it's quick and easy to customize the template and change the color scheme. The template design is optimized for desktop and mobile, so your portfolio site is guaranteed to look awesome no matter what device your site visitors are using.
Let this template take care of all the design and marketing work for you, so you can concentrate on writing your killer project case studies and resume!
Reviews
If you are using this theme, you're welcome to leave a review below.
Details
Latest Version
v2.2 – 2023-09-18
Features
Fully Responsive
HTML5 + CSS3
Built on Bootstrap 5
Theme SCSS source files included
10 Color Schemes
9 Page Designs
FontAwesome icons
Changelog
Changelog
v2.2 – 2023-09-18
Updated Bootstrap and FontAwesome
v2.1 – 2023-06-12
Updated Bootstrap to v5.3
v2.0 – 2022-05-24
Updated Bootstrap to v5.2
Updated FontAwesome to v6
Updated plugin libs
Styling improvements
v1.1 – 2021-06-29
Fixed some styling issues related to dark mode
Updated Bootstrap
v1.0 – 2021-05-15
Credits
Credits
All images are shown for demonstration purposes only.
Bootstrap 5