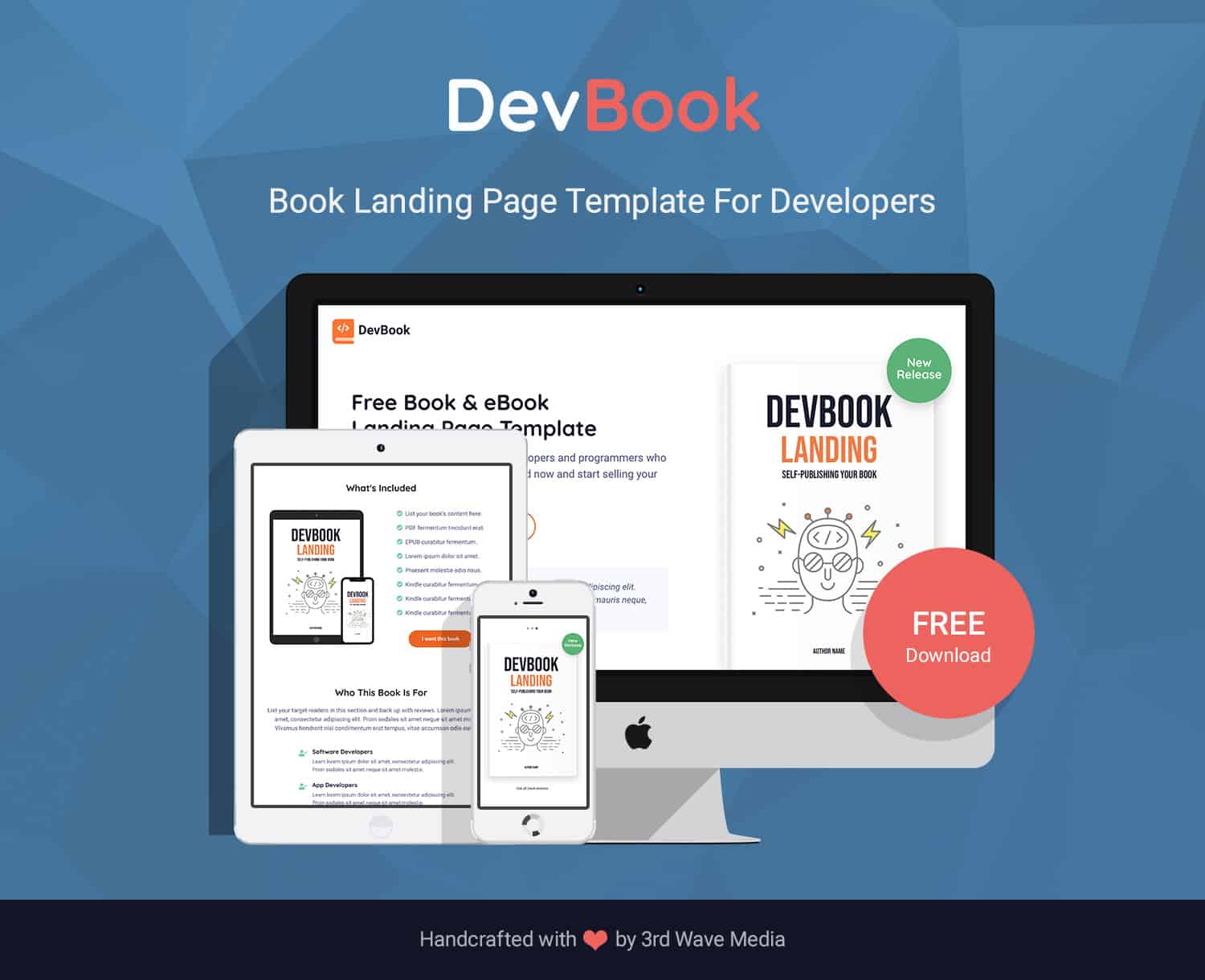 Free Bootstrap 5 Book/eBook Landing Page Template for Developers
DevBook is a free Bootstrap 5 book/ebook landing page template made for developers and programmers. It's perfect for promoting or selling your book/ebook online as it contains all the essential elements to convert your visitors into readers. You can easily use platforms such as Gumroad to handle your book payment and delivery with this landing page.
When your site visitors arrive at the page you should make it crystal clear to them what your book is about and what you want them to do (a big Call-To-Action button). If you have book reviews and recommendations from readers and industry leaders, you can add the best ones right under the CTA button to show social proof and grab a visitor's immediate attention. You can also provide a link (under the book cover) to lead your visitors to a fully fledged reviews section down the page. You can use the free book cover mock from sketchappresources.com to make your own book cover.
If your visitors want to learn more about your book, it's a good idea to focus on your book's benefits instead of features. The "What Will You Get From This Book?" section is the perfect place for you to show a list of benefits to your potential readers. The "What's included" section is a great place to give your visitors a quick overview of your book's content and format. If you include any bonus materials in your ebook you can list them in this section. You can tell your visitors whether the book is for them or not in the "Who This Book Is For" section followed by a reviews section to back up your claim. Giving out freebies is another effective way to generate leads and move your visitors to buy your book. The last section is the "About The Author" section where your visitors can find out things like who you are, why you wrote the book and why they should buy from you.
Love free Bootstrap templates and themes? Sign up to our mailing list or follow us on Twitter so you don't miss any future freebies!
Free Download

(89,719)
Author & License
This Bootstrap template is made by product designer Xiaoying Riley for developers and is 100% FREE as long as you keep the footer attribution link. You do not have the rights to resell, sublicense or redistribute (even for free) the template on its own or as a separate attachment from any of your work.
Commercial License Options
If you'd like to use this template without the footer attribution link, you can buy the commercial license:
Details
Features
Fully Responsive
HTML5 + CSS3
Built on Bootstrap 5
FontAwesome icons
SCSS source files included
Compatible with all modern browsers
Changelog
Changelog
Bootstrap 5 v3.0 – 2023-06-23
Updated Bootstrap 5 and Fontawesome
Bootstrap 5 v2.0 –
2022-06-09
Updated to Bootstrap v5.2
Updated FontAwesome and libs
Bootstrap 5 v1.0 –
2021-07-21
Bootstrap 5 version initial release
v1.2 –
2020-10-10
Updated Bootstrap and FontAwesome
v1.1 –
2020-04-25
Updated Bootstrap, FontAwesome and popper.js
Updated license info
v1.0 –
2019-12-04
Credits
Bootstrap 5