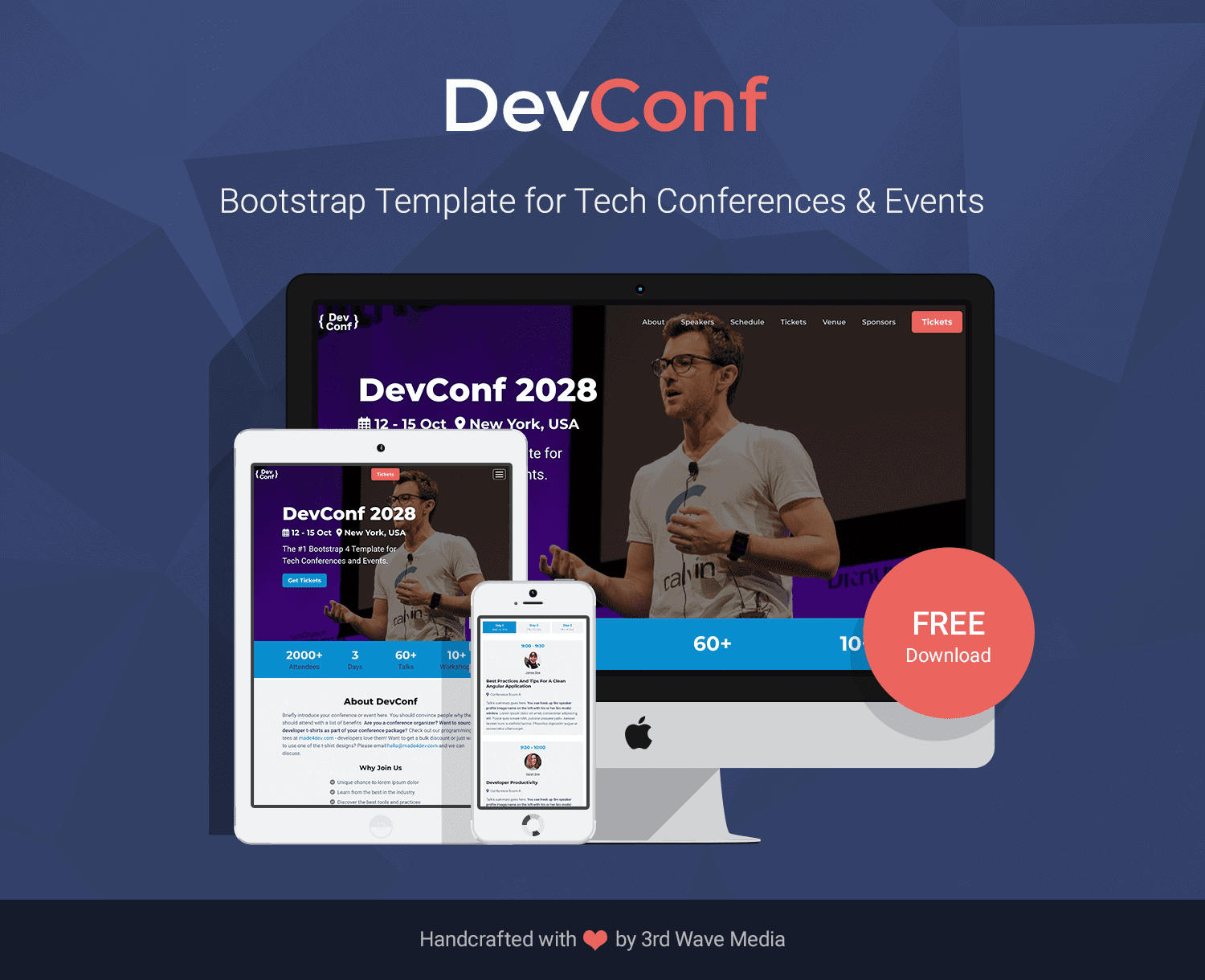 Free Bootstrap 5 Conference Template for Tech Conferences and Events
DevConf is a free Bootstrap 5 conference template perfect for building marketing sites for tech conferences and events. This one-page template contains all the essential sections and elements to effectively promote your conference or event. The design focuses on getting your site visitors to join your conference or event.
Site visitors can grasp the essential info (eg. topic, date, location and stats) about the conference as soon as they land on the page. If you have professional conference photos from previous years you can add them to the hero slideshow to entice visitors to find out more about your event. In the about section, a countdown timer is placed next to the call-to-action button to create a sense of urgency. You can showcase your conference speakers in a designated section and you also have the option to provide extra info about each speaker via Bootstrap's modal windows. The schedule section allows you to add your conference's agenda in a timeline format. You can also provide a detailed schedule in PDF format for your visitors to download. The tickets section contains a useful pricing table and you can redirect your visitors to buy tickets via 3rd party platforms (eg. eventbrite). In the venue section you can provide extra info about the venue, facilities and accommodations for all existing and potential attendees. You can use the Sponsors section to encourage potential partners to get in touch with you ahead of your event.
Love free Bootstrap templates and themes?. Sign up to our mailing list or follow us on Twitter so you don't miss any future freebies!
Free Download

(21,454)
Author & License
This Bootstrap template is made by product designer Xiaoying Riley for developers and is 100% FREE as long as you keep the footer attribution link. You do not have the rights to resell, sublicense or redistribute (even for free) the template on its own or as a separate attachment from any of your work.
Commercial License Options
If you'd like to use this template without the footer attribution link, you can buy the commercial license:
Details
Features
Fully Responsive
HTML5 + CSS3
Built on Bootstrap 5
FontAwesome icons
SCSS source files included
Compatible with all modern browsers
Changelog
Changelog
Bootstrap 5 v3.0 –
2023-06-22
Updated Bootstrap 5 and Fontawesome
Bootstrap 5 v2.0 –
2022-06-09
Updated to Bootstrap v5.2
Updated FontAwesome and libs
Minor bug fixes
Bootstrap 5 v1.0 –
2021-07-26
Bootstrap 5 version initial release
Credits
Bootstrap 5