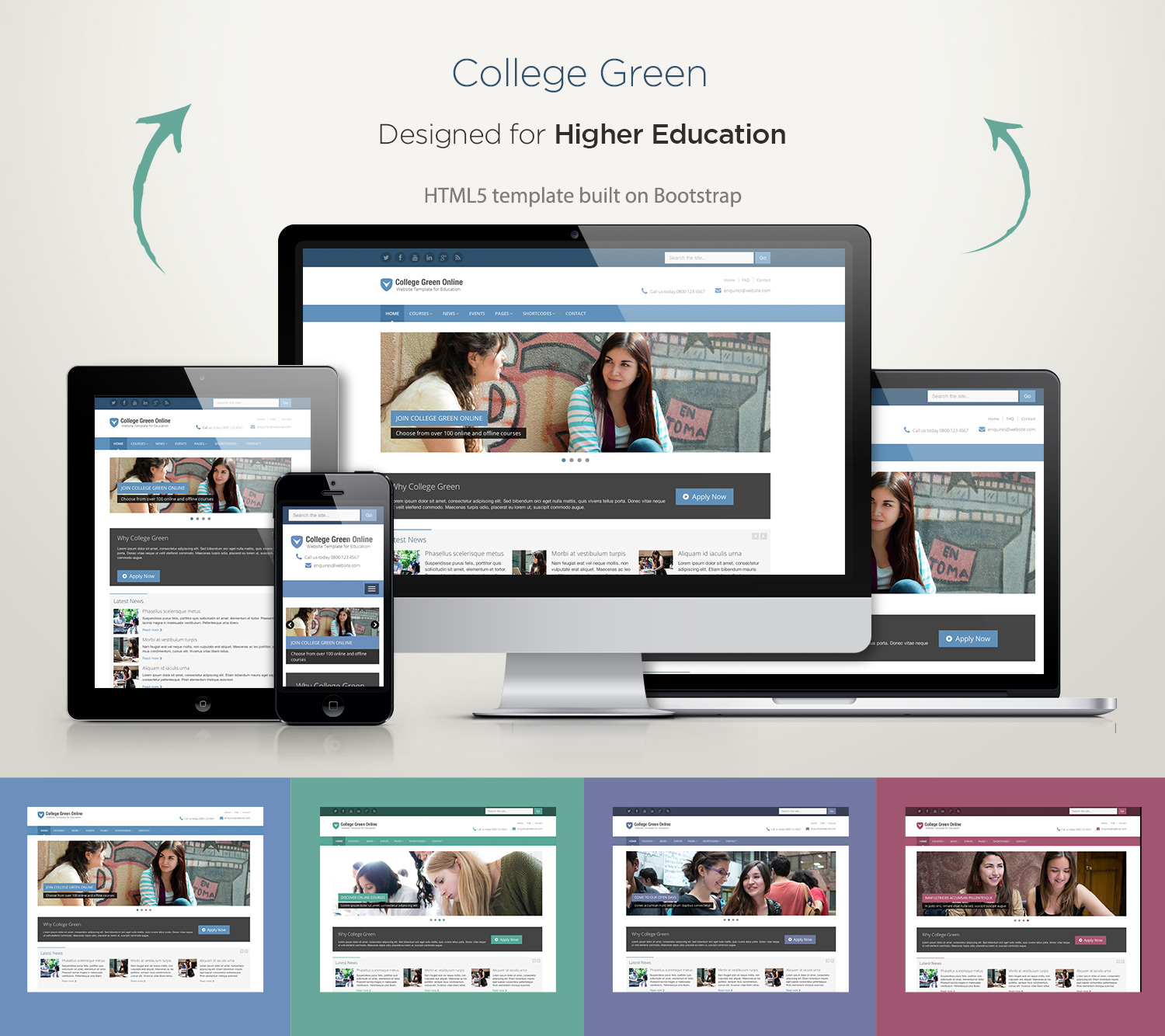 Bootstrap 4 Theme for Education
College Green is a Bootstrap 4 Theme tailored specifically for colleges, universities and online educational establishments who want to offer a clean and professional user experience for their learners and teachers. Built with simplicity in mind, the theme is ready to use on desktop, tablet and mobile with minimal customisation and is high on usability and low on gimmicks. Comes with 4 hand-picked interchangeable color schemes ready to use straight away.
Love the template design but need a Moodle theme? Check out Moodle theme Gourmet Boost.
Details
Latest Version
v4.1.1 – 2020-04-24
Features
Designed for Higher Education
Fully Responsive
HTML5 + CSS3
Built on Bootstrap 4
SCSS source files included
4 Color schemes
27 pages
1000+ FontAwesome 5 icons
Flexslider
Bootstrap carousels
Various shortcodes
Customizable Google map
Logo PSD file included
And many more…
Changelog
Changelog
v4.1.1 – 2020-04-24
Updated Bootstrap and FontAwesome
v4.1 – 2019-10-17
Updated FontAwesome and jQuery
v4.0 – 2019-03-22
Updated Bootstrap to v4.3
Updated FontAwesome
Affected files
college-green > assets > plugins >bootstrap (folder)
college-green > assets > css (folder)
college-green > all HTML files
v3.0 – 2018-06-25
Updated Bootstrap to v4.1
Updated FontAwesome to v5
Updated plugin libs
Used SASS instead of LESS
Theme improvements
v2.0 – 2018-03-03
Initial release for Bootstrap 4
Credits
Credits
Images – Francisco Osorio, Shane Global Language Centres (All images are shown for demonstration purposes only)