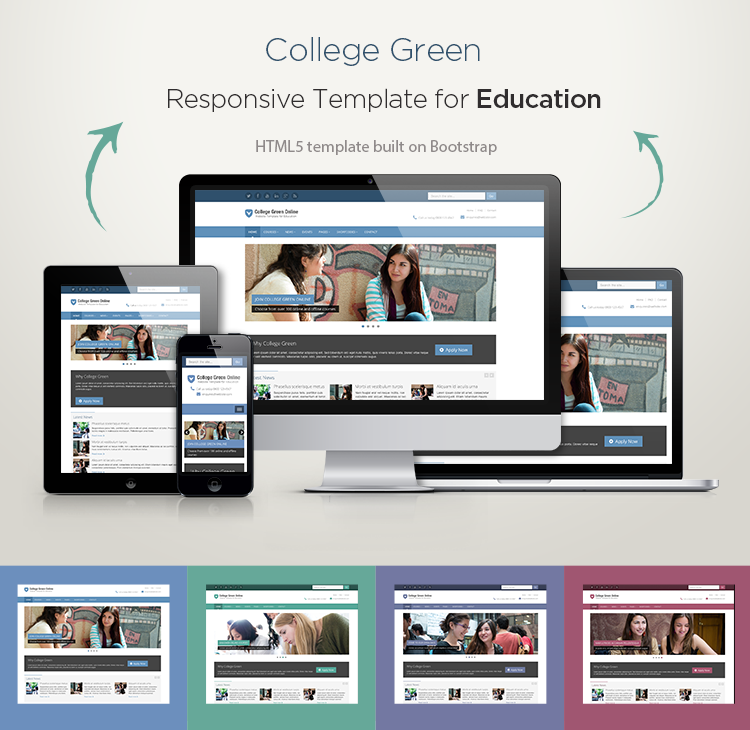 Responsive Bootstrap Theme for Education
College Green is a Bootstrap Theme tailored specifically for schools, colleges, universities and online educational establishments who want to offer a clean and professional user experience for their learners and teachers. Built with simplicity in mind, the theme is ready to use on desktop, tablet and mobile with minimal customisation and is high on usability and low on gimmicks. Comes with 4 hand-picked interchangeable colour schemes ready to use straight away.
NEW
Updated to Bootstrap v4
(Bootstrap 3.3.7 version is available upon request)
---
Follow us on Twitter to get notified when we release updates and free templates.
Details
Features
Designed for Education
Fully Responsive
HTML5 + CSS3
Built on Bootstrap 4
4 colour schemes
27 pages
200 Bootstrap icons
600+ FontAwsome icons
Flexslider
Bootstrap carousels
Various shortcodes
Customizable Google map
Logo PSD file included
And many more…
---
---
Pages
Home
Course List
Course (with image)
Course (with video)
News List
News (with image)
News (with video)
Events
About
Leadership Team
Job List
Job
Gallery (2 columns)
Gallery (3 columns)
Gallery (4 columns)
Gallery (with sidebar)
Gallery Album (no sidebar)
Gallery Album (with sidebar)
FAQ
Privacy Policy
Terms and Conditions
Contact
---
Changelog
Changelog
v2.0 – 2018-03-03
Refactored the theme to work with Bootstrap v4.0.0
Theme improvements
v1.6.1 – 2017-06-12
Updated FontAwesome to v4.7.0
Affected files
college-green > assets > plugins > font-awesome (folder)
v1.6 – 2016-07-28
Use embedded Google map instead of Google maps API
Updated Bootstrap to v3.3.7
Affected files
college-green > contact.html
college-green > assets > plugins > bootstrap (folder)
college-green > assets > css (folder)
v1.5.3 – 2016-06-01
Updated jQuery to v1.12.3
Updated FontAwesome to v4.6.3
Affected files
college-green > All of the HTML files (updated jQuery)
college-green > assets > plugins > font-awesome (folder)
v1.5.2 – 2015-11-26
Fixed an error in styles.css
Updated Bootstrap to v3.3.6
Updated FontAwesome to v4.50
Affected files
college-green > assets > css > styles.css
college-green > assets > plugins > bootstrap (folder)
college-green > assets > plugins > font-awesome (folder)
v1.5.1 – 18 Jun 2015
Improved nested menu behaviour on iPad
Affected files
college-green > assets > js > main.js
v1.5 – 20 May 2015
Fixed nested menu toggle issue on mobile
Affected files
college-green > assets > css (folder)
college-green > assets > js > main.js
v1.4 – 16 May 2015
Fixed multi level dropdown menu mobile collapsing issue
Fixed dropdown menu z-index issue
Affected files
college-green > assets > plugins > bootstrap (folder)
college-green > assets > js > main.js
v1.3 – 05 Apr 2015
Added multi level dropdown (3 nested levels from the main menu)
Updated Bootstrap to v3.3.4
Updated FontAwesome to v4.3.0
Updated jQuery to v1.11.2
Affected files
college-green > assets > plugins > bootstrap (folder)
college-green > assets > plugins > font-awesome (folder)
college-green > assets > plugins > jquery-1.11.2.min.js (added)
college-green > assets > css (folder)
college-green > all of the HTML files
v1.2 – 03 Dec 2014
Updated Bootstrap to v3.3.1
Updated FontAwesome to v4.2.0
Affected files
college-green > assets > plugins > bootstrap (folder)
college-green > assets > plugins > font-awesome (folder)
college-green > assets > css ( Added: a:focus {text-decoration: none} )
v1.0
Credits
Credits
Images – Francisco Osorio, Shane Global Language Centres (All images are shown for demonstration purposes only)