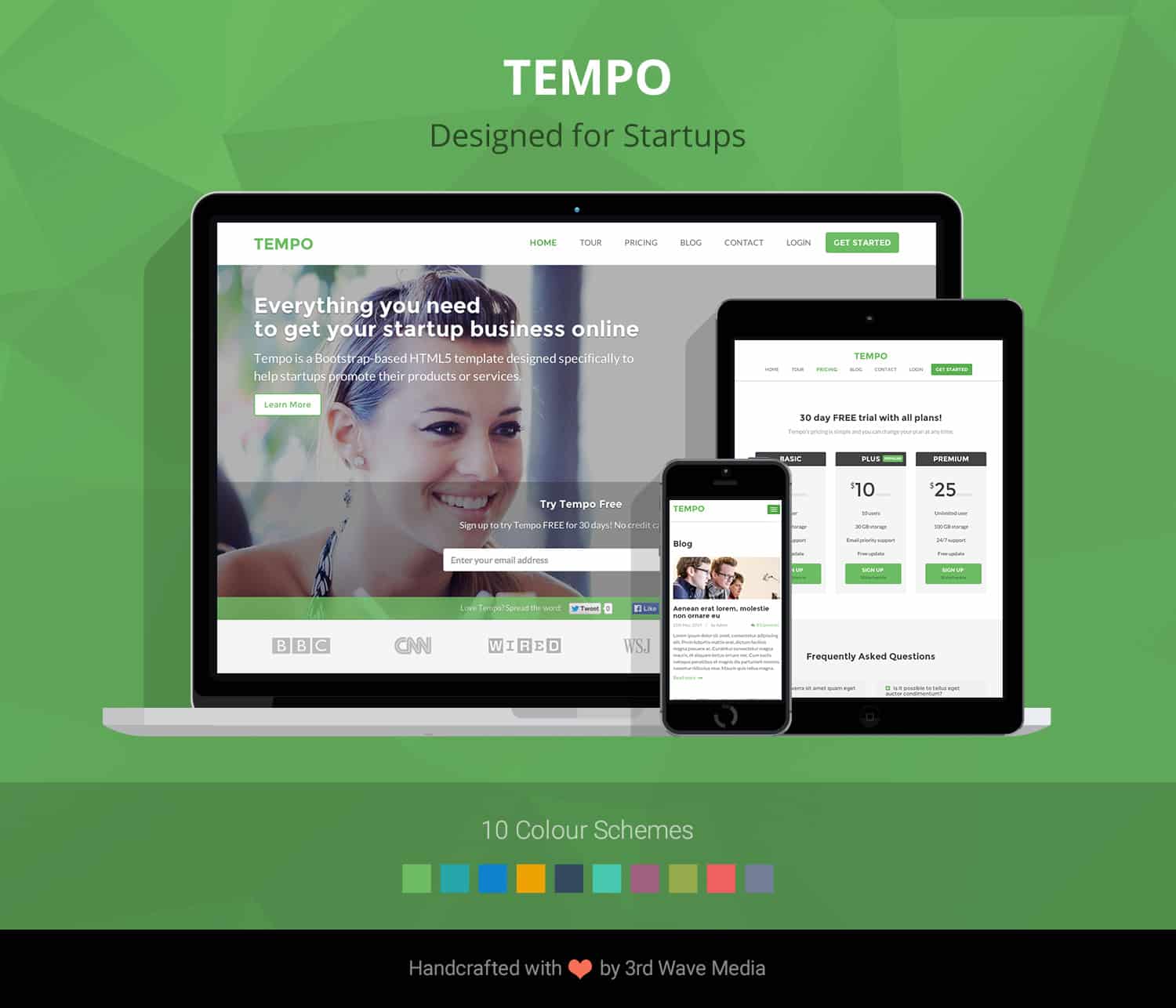 Bootstrap 5 Theme for Startups
Tempo is a Bootstrap 5 template designed specifically to help startups promote their products or services and to attract users & investors.
It has everything you need to launch your startup's professional web presence and the user journey is streamlined towards the user taking positive action. It can also be used to validate your startup idea by measuring the signup conversion rate. We hope the template will help you achieve your goals and be a time saver so you can concentrate on perfecting your products and services. If you have any questions or suggestions please leave a comment or get in touch.
Details
Latest Version
v2.4 – 2023-09-20
Features
Fully Responsive
HTML5 + CSS3
Built on Bootstrap 5 (no jQuery)
SCSS source files included
10 Color schemes
7 pages (including a blog)
Bootstrap iocns
FontAwesome icons
Changelog
Changelog
v2.4 – 2023-09-20
Updated Bootstrap and FontAwesome
v2.3 – 2023-06-20
Updated Bootstrap to v5.3
Updated styling
v2.2 – 2022-06-01
Updated Bootstrap to v5.2
Updated FontAwesome to v6
Updated libs
Minor bug fixes
v2.1 – 2021-07-22
Updated Bootstrap
Styling fix
v2.0 – 2021-05-17
Updated Bootstrap and FontAwesome
v1.1 – 2020-10-12
Updated Bootstrap and FontAwesome
v1.0 – 2020-09-02
Bootstrap 5 version initial release
Credits
Bootstrap 5